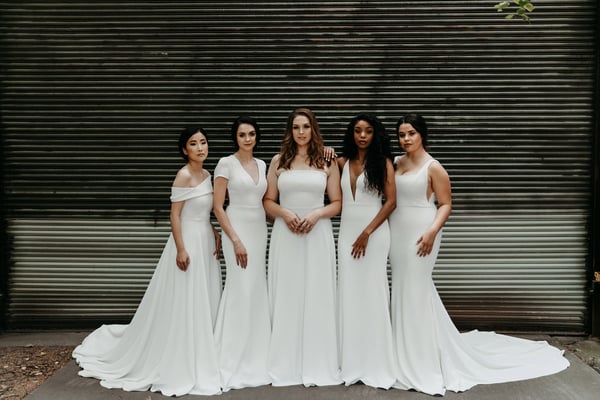 Although we're well-versed in all things wedding related, the topic that we're true experts on is wedding dresses! For many brides, finding their wedding gown is the best part of wedding planning, and we totally agree. The process of finding a dress is super exciting and a lot of time and emotion goes into it. If you haven't already visited our Wedding Dress Shopping page, check it out now!
While saying "yes" to your fiancé may have been easy, you may be wondering how to pick the perfect wedding dress. We know that choosing your gown is a huge decision, but luckily, we're here to help! There are some key indicators that you should be on the lookout for while dress hunting. If you don't want to take it off, can't get it off your mind, or you can't stop smiling, it might be your dress! Not wanting to try on other dresses, re-trying on a certain dress several times, and a big smile on your face are all signs that you've found the dress of your dreams. If you're still on the fence, ask yourself if you can visualize yourself walking down the aisle to your partner in the wedding gown. If the answer is yes, that might be your dress!
If you're still not sure about a gown, there are also some red flags that you should be weary of while wedding dress shopping. If the gown is out of your budget, needing several alterations, or it makes you uncomfortable, keep looking! Your consultant should be able to find your dream dress within your budget, and while alterations are typically necessary, if you're trying to totally redesign the dress it isn't the one for you. Finally, we recommend stepping out of your comfort zone while trying on gowns, but if it's just not you…keep looking. You should feel comfortable, confident, and beautiful on your wedding day! In short, follow your gut and say yes to the dress that makes you the happiest and most comfortable.
If you're having trouble finding the dress of your dreams at the bridal salon, you may want to consider whether Custom-Made or Off-the-Rack is best for you! We offer a broad array of customizations that will make your off-the-rack wedding dress truly unique. We value and encourage creativity throughout your dress shopping experience and want to make your dream dress a reality! Ordering a custom dress will result in a one-of-a-kind perfectly curated look. If you can't find anything in-store that you love, this may be the best option for you! Unfortunately, custom dresses take much longer than off-the-rack ones, and they don't tend to offer sales or discounts. Off-the-rack dresses however can be taken directly out of the bridal store! This is optimal for brides whose weddings are less than three months way. These stock inventory dresses can typically be purchased at a significant discount compared to custom gowns. You'll want to talk to your bridal consultant during your appointment to nail down what option is best for you.
While trying on gowns, you may be asking yourself why wedding dresses are sized differently. Don't worry! It's not you, it's the dress. While we don't consider sizing as a factor at all while helping you pick out your dress, we think it's important to be completely transparent when it comes to how bridal sizing works. Helping brides understand the way the bridal dress measurements are done and why they're different from the everyday sizing that we're used to will lead to less tag shock when it's time to order a gown. We absolutely recognize that dress sizes can be a sensitive subject for many women and want to ensure all of our brides that our only goal is to make sure you leave with the wedding dress that works best for you!
Shopping for a wedding gown is unlike any other shopping experience most women have had. These gowns will be tailored to perfectly fit your body, so the typical XS – XL doesn't cut it with wedding dress sizes. When you're fitted for your dress, we'll measure your bust, waist, and hips, then your dress will be ordered based on the biggest measurement taken. This is where the sizing disconnect typically comes into play. The reason why bridal salons do this is because when it comes to alterations, it's much easier to take a dress in to perfectly fit your body than it is to add fabric.
Even with us taking your largest measurement, bridal gowns still run about 1-2 sizes smaller than the everyday measurements that most people are used to. Historically, the reason for this is that many bridal designers are from Europe, and the bridal industry has continued to use European sizes from the 1950s. Not shockingly, when compared to present day, the 1950s European size chart is much smaller than what we're typically used to. Although women's bodies and streetwear clothing have evolved since then, the bridal sizing chart has not. This is why we stress that our brides should pay no attention to the actual size of the dress, because they tend to be all over the place!
Luckily, the gown size is literally just a number. Wedding dress sizes are based on one measurement and then compared to a European size chart from the 1950s…there's no need to give the number any thought. We don't care about sizing, or what dress silhouettes your body type is "supposed" to wear. We only care about putting you in a gown that is going to make you feel confident and bridal. The dress that gives you that warm feeling may be a completely different one than you were expecting, so don't feel pressured to stick to any one style based on your body type. Don't forget, no one sees the dress tag on your wedding day. All your guests will see is you looking confident and gorgeous in a gown that fits you perfectly, so don't worry about what size you're ordering!
On the topic of ordering your wedding dress, you're probably wondering why you have to purchase your gown so far in advance. We recommend that brides order their dresses 9-12 months prior to the wedding, and while this may seem like an excessive amount of time, there are several reasons for it!
The biggest difference between a wedding dress purchase and a regular trip to the store is that each dress is made to order based on your measurements. Waiting to make the gown until your measurements are received ensures that your dress fits you like a dream. Starting off with your exact measurements helps minimize the amount of alterations that are required after you receive the gown. Creating the dresses as they're ordered also allows the designers to make any adjustments necessary if you're looking to customize your dress. Another reason why the dresses take so long is that they're made with love, and typically by hand! Intricate beadwork, delicate lace, and custom measurements require someone to create each dress by hand. Additionally, bridal designers are spread across the globe, and oftentimes, their materials are too. It takes extra time to source fabrics from across the world before they're shipped to the designer to be constructed, and eventually to their final destination – with you!
At the end of the day, it's well worth the wait to get your perfect gown. Giving the designers ample time to create a gown specific to your measurements and specifications will pay off when you end up with the wedding dress of your dreams. Even once you have your gown, it will most likely need some sort of alterations. Whether you're simply hemming the dress or reworking a part of the design, you'll need to account for alterations time! Although they are nearly impossible to avoid, there are a few things you can do to make your wedding alterations easy.
Alterations play a huge part in how your dress looks and feels, so getting them right is essential! The amount of time needed to work on your dress depends on how intricate the changes are and whether or not it's busy season. Most brides need around 3-4 fittings and typically have their first fitting 3-6 months out.
When choosing an seamstress, you'll want to rely heavily on customer reviews. Stick to the experts and avoid local drycleaners. It is essential that you do your homework on your seamstress using Yelp, Google Reviews, and bridal chat rooms to narrow down who you can truly trust with your wedding dress. When you go in for your appointment, you'll want to bring your desired undergarments, jewelry, and most importantly, shoes! Your gown is going to fit completely differently with heels on, and the length cannot be hemmed unless you have your shoes with you, so be sure to bring them along. In addition to your shoes, you'll also want to bring your most trusted and honest friend or family member. This will ensure that you can count on their opinion to be in your best interest while adjustments are being made to the dress. Additionally, bringing in whoever will execute your bustle is a good idea! This way, the seamstress can teach them how to bustle your gown on your wedding day.
Alterations aren't only about making your gown fit properly. They can also be used to customize your gown and make it one-of-a kind! Adding more volume to the skirt, adjusting the neckline, and adding sleeves are all ways to turn your gown into a custom design. If you're in love with a wedding gown but wish you could change one or two things about it, Your Dream Dress May Be One Customization Away.
Not all brides walk into their bridal appointments knowing exactly what they want! Additionally, many brides who think they know what they want end up changing their mind later! It's super common for women to come into the shop ready to try anything and everything our stylists pick for them. It's also just as common for brides to be dead set on a gown style, only to end up with something totally different. If you're a bride who knows what you want, we can bring any bridal vision you have to life! Luckily, even if you have no idea what you want, we can still find (or make!) your perfect wedding dress. Helping brides refine their vision is part of our job!
Customizations are much more common than people expect, with roughly 1 out of every 5 of our brides requesting some sort of design alteration. If you're not set on a specific gown, but you know that you want to customize a dress, we can make that happen! Our advice is to start by finding the base of a gown that you love. From there, the stylists can tweak design elements on the dress until you find the customization that is going to be just right for you. We suggest trying on a large variety of dress styles, because you never know what you may end up falling in love with. Test out a bunch of different styles throughout your appointment and see what you end up being drawn towards. Wedding dresses are a large investment and you'll never make a purchase like this again, so make sure it's exactly what you want even if it means customizing it!
Even once you have your gown, it will most likely need some sort of alterations. Whether you're simply hemming the dress or reworking a part of the design, you'll need to account for alterations time! At the end of the day, it's well worth the wait to get your perfect gown. Giving the designers ample time to create a gown specific to your measurements and specifications will pay off when you end up with the wedding dress of your dreams. Wedding dresses are a large investment, and you'll never make a purchase like it again!
Since wedding dresses are large investments, before establishing a budget you'll want to determine who is paying for the gown! There are no set rules on who has to pay for what during wedding planning, however, some couples may want to stick to the traditional divvying up of responsibilities. Although the responsibility varies from culture to culture, historically the bride's family will pay for her wedding dress and accessories. This includes everything from the dress itself to the veil and shoes. Although this is how the cost has typically been handled, many modern brides are opting to pay for their gown themselves rather than relying on family.
Accessories
Speaking of accessories, it's essential that you don't overlook them when putting together your bridal look! Your engagement ring doesn't have to be the only accessory that you wear on your wedding day! Although your dress and ring will be the stars of the show, accessories can enhance your look quite a bit.
Accessories can help make you feel truly bridal in your gown. Even the addition of a small accessory can help transform an entire look. If you aren't sure about a dress, try it out with a veil or a belt to see if it changes your mind. One of the Top Tips for Better Pictures is to utilize accessories. Wearing an overlay piece like a bridal jacket, cape, or removable train essentially gives you an entire second look. These transformational pieces look amazing in photographs and offer a lot of diversity when it comes to your images. Especially if you're having your wedding in cooler months, an overlay piece is a must-have for more stylish wedding photos. Heels are also an essential accessory according to photographers. Even if you are only comfortable in a kitten heel or plan on switching into flats for dancing, the best thing you can do for your dress in pictures is to wear heels. Gowns are made to be worn with heels and they will immediately elongate your torso and change your stride. If you're looking to get model-esque wedding photos, heels are an absolute must-have accessory.
In addition to enhancing your bridal look, accessories can be a great way to add meaningful touches to your wedding day outfit. Incorporating accessories worn by your relatives is a sweet way to honor them during your wedding. You can even pass down your own accessories to your own family members when it's their turn to walk down the aisle. Prior to your wedding, give yourself plenty of time to pick out the perfect accessories for you. After you've found your dream dress, start looking at hair combs, belts, shoes, jewelry, cover ups, and most importantly, veils!
Veils
Although the dress is undoubtedly the star of the show on your wedding day, the entire outfit will be heavily photographed, so finding your dream veil is important too! Veils can be a fun way to bring your whole look together to give it an extra bridal feel, and there are quite a few options available! Similar to choosing your dress, at the end of the day you'll want to pick whichever veil makes you feel the most confident and bridal. Some brides opt to coordinate the look and feel of the veil with their dress, choosing something that has the same general look. For example, picking an extravagant veil to match an extravagant dress. This creates a cohesive bridal look! Other brides may opt to utilize their veil to create a contrast. For example, if your dress is simpler, you can pick a louder veil to create a balanced look.
Something to consider when picking a veil is your hairstyle. Whether you're wearing your hair up or down will affect the placement of the veil, so you'll want to think about how each style will look with your hair. Veils are typically attached to the head using a comb and can be placed above or below most updos depending on the style. There are endless options when it comes to veil lengths, especially when you consider custom orders, for a full breakdown of veil options check out our Veils 101: Wedding Veil Style Guide. At the end of the day, you'll want to pick a veil that compliments both your dress and your personality. Once you find a veil that brings your entire look together and is you, then you've found the one!
Undergarments
While everyone's mind gravitates towards the dress and the veil, undergarments are often overlooked until the last minute! Bridal undergarments are used to accentuate the shape of the wedding dress and keep the bride comfortable throughout the day and into the night. This can include anything from a standard bra to shapewear. Although undergarments can play a crucial role in your wedding day look, they may not be necessary depending on your gown.
Many modern wedding gowns have things like cups and corsets included in the design. This means that the bride doesn't have to worry about wearing a bra, because the support is already built into the dress! If your gown doesn't have cups sewn into the chest or you just want extra support, you may want to wear a bra. While it certainly isn't required, some brides choose to utilize shapewear in order to help them avoid dress bunching or underwear lines showing. Typically, once your gown has been altered you shouldn't encounter bunching. While this is true, if your dress is especially slinky or the material is thin shapewear can be a great option to create a seamless look.
The main point of undergarments is to keep you secure as you celebrate your new marriage. As a bride, you shouldn't feel pressured to utilize shapewear if you don't need to. If your dress provides all of the support you need, then feel free to skip the undergarments! Regardless of what undergarments you choose to wear or omit, be sure to try your full bridal look on ahead of your wedding to ensure that you're comfortable and confident on your wedding day.
Bustling
Another thing brides can do to make themselves more comfortable on their wedding day is adding a bustle to their dress! Bustling a wedding dress means to secure the extra fabric from the bottom of your gown to prevent it from dragging on the ground. This involves hooking the ends of your dress onto the inside or outside of your skirt so that it is folded and out of the way. This will allow you to move freely throughout the night without worrying about your dress being stepped on or dragged through dirt. Preventing the bottom of your gown from being completely destroyed at the reception will help considerably during the cleaning process when you have your gown preserved. Bustling is extra important for brides with cathedral length trains that will be a hinderance during dinner and dancing. Protecting your gown from damage by bustling it will make your life much easier when it comes time to clean your dress after the wedding.
Preserving Your Gown
Once your vows have been said and you've finished dancing the night away, you have a few options on what to do with your wedding gown. You may find yourself asking whether you should keep or sell your wedding dress. Some brides consider selling their gown, but this isn't something that you can undo, so you'll want to heavily contemplate whether or not this is the right choice for you. Personally, at Adorn we think you should keep the gown! This gives you the opportunity to pass it down, re-wear it for a vow renewal, or donate it later when you're ready. On the other hand, there are definitely perks to selling your wedding dress. Wedding gowns are expensive and selling yours would help you recoup some of that cost! Additionally, you wouldn't have to worry about storing or transporting the gown if you move around a lot. If you aren't 100% sure about selling your wedding gown, we urge you to hold off on making the decision! If you are planning on holding onto your gown for a while, you will absolutely want to preserve it as soon as possible after the wedding.
Waking up the morning after your wedding is guaranteed to be a happy memory. Whether you're headed to your honeymoon or settling into your new home, we know that there will be a big smile on your face. Your wedding dress on the other hand may be looking a little rough after a night of drinks and dancing, so you'll want to give it some TLC as soon as possible. Regardless of what you plan on doing long-term with your gown, you'll want to have it cleaned ASAP! Whether you can see them or not, your dress is bound to be covered in stains. Even ones that are not visible to the naked eye are guaranteed to set in and oxidize over time which will result in the yellowing of your gown. This is why it's essential that you have your wedding dress professionally cleaned by someone who specializes in wedding dresses as soon as possible after the wedding.
At Adorn we highly recommend preserving the gown. If you plan to pass your dress down to your daughters in the future, this is essential in maintaining the beauty of the garment. This will also give you the option of repurposing the dress later in life, perhaps for a vow renewal or christening ceremony. Even if you want to simply keep the gown around as a cherished keepsake, preserving is an amazing tool to extend the longevity of the dress. Your dress will go through a lot on your wedding day, so be sure to show it some love afterwards. How you treat your gown immediately after your wedding will determine how it holds up for the rest of its life!