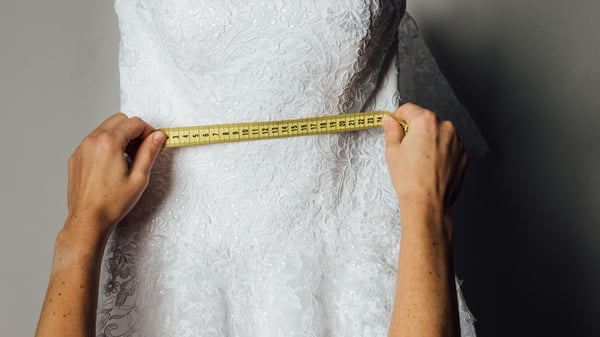 What could be more fun than picking out a beautiful gown to marry your best friend in? Wedding dress shopping is one of the first things new brides tend to look forward to after getting engaged. Many women dream about this experience since they were little girls, however, wedding dress sizing can often come as a shock when dress shopping. Whether you're getting ready for your first bridal appointment, or you've been to a few salons already, you may be confused on why bridal sizing is so different.
Don't worry! It's not you, it's the dress.
While we don't consider sizing as a factor at all while helping you pick out your dress, we understand the importance of remaining completely transparent with our brides on how wedding dress sizing works. Helping brides understand the way bridal sizing works and why it's different from standard sizing will lead to less tag shock when it comes time to order a gown. We recognize that sizing can be a touchy subject for many women and want to ensure all of our brides that our only priority is making sure that you leave with the dress that will work best for you on your wedding day!
It's Not Like Shopping at the Mall
Shopping for a wedding gown is not like shopping for clothes off the rack. These gowns will be tailored to perfectly fit your body, so the typical XS – XL doesn't cut it with wedding dress sizes. When you're fitted for your dress, we'll measure your bust, waist, and hips. Your dress size will be ordered based on the biggest measurement taken. This means that even if you're usually a small or medium in skirts, if your tops are a size large, the dress will be ordered based on that measurement. This is a standard practice because when it comes to alterations, it's much easier to take a dress in to perfectly fit your body than it is to add fabric.
Bridal Sizing is From 1950 European Size Charts
Even with us taking your largest measurement, bridal gowns still run about 1-2 sizes larger than the everyday measurements that most people are used to. Historically, the reason for this is that many bridal designers are from Europe, and the bridal industry has continued to use European sizes from the 1950s. Not shockingly, when compared to present day, the 1950s European size chart is much smaller than what we're typically used to. Although women's bodies and streetwear clothing have evolved since then, the bridal sizing chart has not.
Sizing Can Vary By Designer
Additionally, sizing can vary between fits and designers. Most women are all too familiar with the struggle of trying to buy jeans from different retailers and finding your wedding dress size can be similarly confusing. Depending on the cut and the designer, two completely different sized dresses can both fit you perfectly.
It's Just a Number!
Luckily, the gown size is literally just a number! Wedding dress sizes are based on one measurement and then compared to a European size chart from the 1950s…there's no need to give the number any thought. We don't care about sizing, or what dress silhouettes your body type is "supposed" to wear. We only care about putting you in a gown that is going to make you feel comfortable, confident, and beautiful. Trust your stylist to pull dresses that will fit you best, regardless of sizing.
After all, no one sees the dress tag on your wedding day. All your guests will see is you looking confident and beautiful in a gown that fits you perfectly.