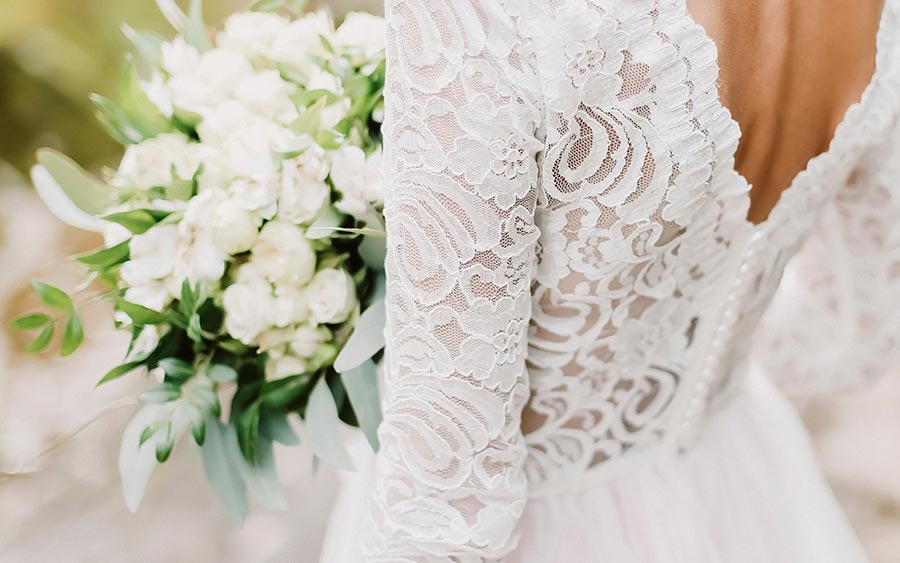 How you store your wedding dress will directly impact how your gown looks both before the wedding, and after. Prior to the wedding, it's essential that you keep your dress in tip-top shape so that it's ready for the big day! After the wedding, you must handle the gown with care in order to extend the preservation of the dress. Check out our tips on how to store your dress both before and after the wedding below!
Before the wedding
Once you leave the bridal salon, everything you do with your gown will directly impact how it looks on your wedding day! In order to keep your dress looking wedding-ready, be sure to:
Follow the instructions given by the bridal salon. No one knows your dress better than your bridal salon. They work with the designers and fabrics every day and know exactly how to care for them. Above all else, listen to your salon when it comes to caring for and storing your gown before your wedding day.
Store the gown in a dry and dark spot. Sunlight can cause your gown to fade, and humidity can cause mildew to form. Keeping your gown in a temperature controlled and dark space will prevent environmental damage to the dress.
Keep the gown away from children and pets! Although they can be well meaning, you wouldn't want an inadvertent stain or paw print on your wedding gown. Store the dress away from well trafficked areas to avoid accidents!
Place the gown in a breathable cloth garment bag. If your bridal salon didn't provide a cloth garment bag, a clean white sheet will work as well.
If you're hanging your wedding dress, use hanger straps to keep the gown supported. This will prevent the dress from sitting in unnatural positions due to gravity.
If your gown is exceptionally heavy, store it lying flat. Lots of beading and fabric can ultimately weigh down a wedding dress and cause it to crease on the hanger. Lay your dress flat to avoid distorting the gown.
After the wedding
Once your wedding has passed, it's essential that you have you dress professionally cleaned before stains set in and become permanent. Be sure to utilize a wedding-dress expert, after all, this isn't your usual dry-cleaning garment!
Have your dress professionally preserved to prevent it from yellowing or accumulating mildew over time. If you want to keep your dress in its original condition for years to come, preserving it is essential.
Box the gown. Whether done by a professional or at home, make sure your gown is wrapped in acid-free colorless tissue paper or unbleached muslin. Place tissue paper between the folds of the gown to avoid creasing over time. If the gown has sleeves, fill them with tissue paper to hold their shape. Close the box and store somewhere safe! A wedding dress preservation service will box your dress for you in the optimal way to eliminate creases.
OR
Hang the gown. Hanging your dress is not recommended as it can cause stress to the fabric and create distortion. If you choose to hang to your dress, be sure to use an acid-free cloth garment bag. Plastic bags have been shown to cause yellowing on wedding dresses over time due to the gown's inability to breathe. Use a padded hanger – it's gentler on the fabric, plus wood and wire hangers run the risk of snagging the material.
Store somewhere dark, cool, and dry. Sunlight and extreme temperatures can cause your gown to fade and develop mildew. Keep your dress in a dark temperature-controlled room to prevent environmental damage to the gown.
Check in on the dress! Take a peek at the dress every year or two to ensure that it isn't yellowing. This is important to ensure that your dress is remaining in tip top shape. If any issues arise with your gown, you'll be able to get ahead of them before they've had years to set in.