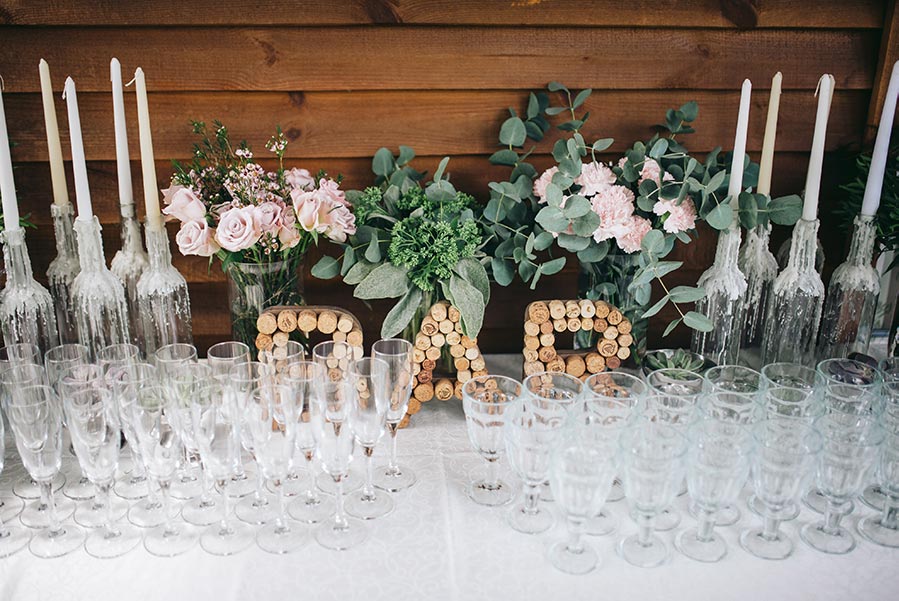 Determining what type of bar you should host at your wedding is one of the most important decisions to make in your wedding budget. We'll walk you through the typical wedding bar options to help you choose whether a consumption bar or an open bar works best for your guests and budget.
Dry Bar
A dry bar is exactly what it sounds like – no alcohol! Your guests will only have access to the non-alcoholic drinks that your venue typically serves with the meals. This usually includes water, soft drinks, coffee, and tea. If you know for a fact that your guests don't drink at all, this is the perfect option for you.
Cash Bar
This can be a pretty controversial option! This entails having guests pay for each of their drinks throughout the night. Weddings are expensive, so a cash bar can definitely be tempting, but traditionally it isn't guest favorite. Although you are probably paying a tremendous amount on your wedding, your guests are also paying quite a bit to attend (attire, travel, lodging, gifts, etc.) so they may not be pleased when they're asked to pay for drinks during the reception.
Limited Bar (Beer & Wine Only or Signature Cocktails)
Hosting a limited bar typically means that you only serve beer and wine rather than a full range of liquors. This is a great option if you don't want to worry about paying a tab, but also don't want to spend the money on a full range of options. As a workaround, many venues will allow you to host an open bar with 1-2 signature cocktails. In addition to the venue's beers and wines, your guests will also be able to order pre-made cocktails! You can customize these drinks to add a fun aspect of personalization to your bar. We've seen couples name their signature cocktails after their pets, alma maters, and favorite places. If this is something you're interested in, ask your venue if it's a feature you can add-on to your wedding bar package.
Open Bar
Hosting an open bar means that your guests can order any drink (beer, wine, or liquor) on your dime. Typically, there are three categories of open bars based on how you want to pay for them.
Unlimited
This option involves paying a flat fee prior to the wedding for unlimited access to the venue's alcohol. This is the most expensive option, but it is also the best route if your guests are heavy drinkers! If you know your guests will be drinking quite a bit and you don't want to worry about bar costs during or after the wedding, this is the option for you.
Tabbed
This option involves paying a tab upfront with your venue ahead of the wedding. Once the tab runs out, your venue will typically give you three options: 1. You can add more money to the tab and keep the open bar going. 2. You can switch to a cash bar and ask guests to purchase their drinks for the remainder of the night. 3. You can close down the bar. If you think you can accurately estimate your guests' consumption ahead of time, this can be more cost-effective than a flat fee unlimited open bar.
Consumption
A consumption bar means that you're paying the bar tab after the wedding based on how much your guests consume. You should discuss individual drink costs ahead of the wedding so that you can estimate how much the bill will be after the fact. This is a great option if you want to offer your guests free drinks but don't think they'll get a ton of use out of the open bar. If your guests don't drink much, this option can save you a ton of money compared to a traditional flat rate open bar.
BYOB Packages
This is one of the most cost-effective options! If your venue offers a BYOB package, this typically means that they supply a bartending service for an open bar but allow you to bring in your own alcohol. With this option, you can purchase your alcohol wholesale ahead of the wedding, which will allow you to host an open bar without paying for the markup of each bottle. Not many venues offer BYOB packages since bar packages are so profitable, but they're definitely worth keeping an eye out for!
Pro Tip
If you go this route, try purchasing 2-3 bottles of alcohol every time you go to the grocery store during your engagement. This will allow you to spread out the cost of buying alcohol, and by the time your wedding rolls around you should have a sizable stockpile for the bar!
You know your guests better than anyone, so trust your gut when picking out your bar package! At the end of the day, it's always better to overestimate your needs than to leave your guests thirsty halfway through the night.