Hey Louisville Bride, whether you've been dreaming about this day since childhood or are just dipping your toes into wedding planning, you have a story to tell. You have a vision and a style that is completely your own. You are beautiful. Let us adorn you.
Our goal is to create a moment of pure joy when you try on your dress. We want you to step up to the pedestal then look in the mirror and think….wow. You're gorgeous, you're glowing, and you're a bride.
We know that finding your dream dress isn't always easy and can sometimes feel discouraging. That's why our philosophy is simple: empowered brides are the best brides. This is your day. You should feel special and supported.
Your experience is everything. Before we ever show you a dress, we take the time to get to know you. Our expert bridal stylists will be with you every step of the way. We promise a low-pressure shopping environment that is tailored to your needs and desires. We never want you to feel like you are being rushed through your appointment or that we are pushing for you to buy a dress that's not your style. We promise to find you a dress that you can't stop dreaming about from the moment you step out of our door to the moment you walk down the aisle.
ADORN LOUISVILLE BRIDAL DESIGNERS
We purposefully choose to stock our sample dress in sizes that reflect real brides. Our floor samples are typically a size 10-14. Each of our carefully selected designers carry a full size range from 0-30, with many customizations available to bring your vision to life. Are you nervous about sizing? Please give us a call.
YOUR PERSONALIZED EXPERIENCE
STEP 1.
Schedule An Appointment
Tell us about you, your dreams, and your aspirations
STEP 2.
Try On Dresses
Try on your hand-selected designer gowns, curated to your unique and individual style.
STEP 3.
Say Yes With Confidence
Choose the dress that makes you look and feel beautiful!
MEET OUR ADORN LOUISVILLE TEAM
"Haley and Bethany felt like my own friends they were so sweet and helpful. They pulled all the right dresses for me without much information and hit the nail on the head finding me "the one".
Haley G - Google
"It was the first time since being engaged that I felt like a bride. I couldn't have asked for a better or more magical experience!"
Ashtin D – The Knot
"I had the absolute best experience with Bethany at Adorn! She listened to every detail I mentioned and truly helped me create the perfect look! She made me feel so comfortable and answered every question I had!"
Elizabeth J – The Knot
Bethany and Haley were amazing! So personable and easy to work with, and made the entire experience so enjoyable for both myself and my entourage.
Talia D – The Knot
Bethany went ABOVE AND BEYOND when helping me find my dress. I was so anxious and nervous before my appointment and thought I was going to leave without a dress. Bethany made my experience so perfect! Highly recommend!!
Alexis P - Google
DON'T MAKE A WEDDING PLANNING MISTAKE!
Get your free copy of our Wedding Fashion Timeline.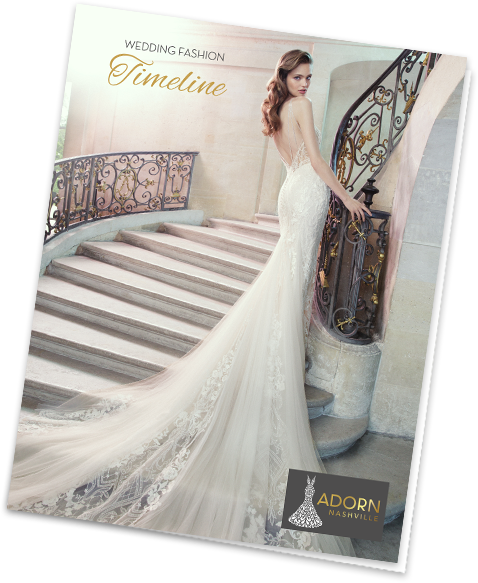 Location And Parking

629 East Market St Suite 101
Louisville, KY 40202
502-805-1533
You can park in the lot behind our building, which can be accessed on S Clay St, or there is meter parking directly in front of our building.
a LOUISVILLE, KY bridal shop


Welcome to Adorn Louisville Bridal Shop! We are home to leading wedding dress designers including Vera Wang Bride, Blue by Enzoani, Love By Enzoani Pronovias, Alyne, Alyssa Kristin and more. Our stylists are bridal experts. They know our brides better than anyone. That's why they hand-select our designer wedding gowns, curated to your unique bridal style. Whether you're looking for a romantic wedding dress, a modern wedding dress, or a trendsetting wedding dress, we've got you covered.
In addition to our large range of gowns, our expert bridal stylists want to get to know you and make your vision a reality. We are here to help you discover and customize the wedding dress of your dreams, all in a no-fuss, stress-free, wedding dress shopping experience that caters to YOU. We are determined to earn the reputation as the best bridal salon in Kentucky.