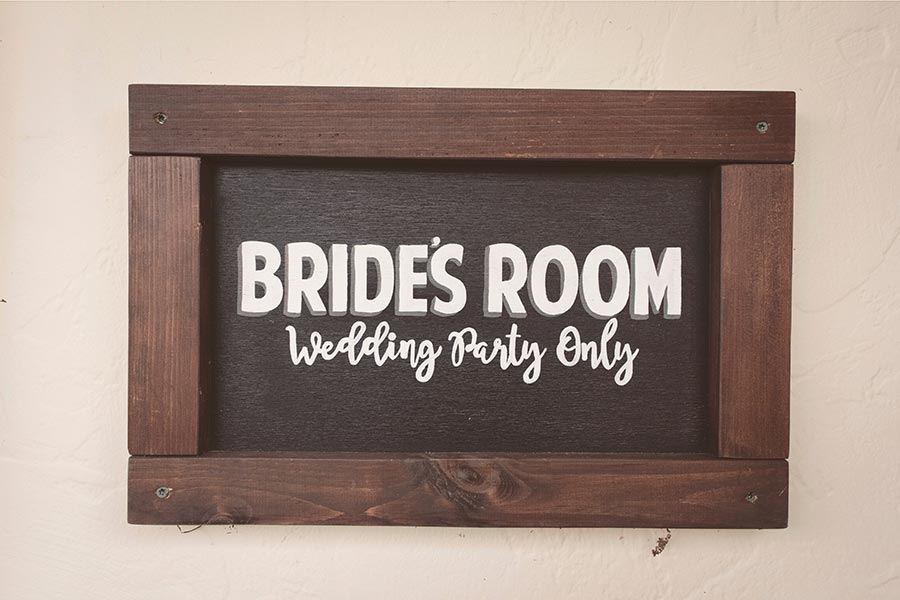 Bridal suites are a ton of fun, but they can get chaotic fast! You'll want to make sure that everything is running smoothly and there are no stressors as you get ready to walk down the aisle. Here are our favorite tips on making your bridal suite the best it can be.
1. Limit the headcount
VIPs only. Having too many people in your bridal suite results in a crowded, loud, and disorganized space. Additionally, you'll be changing and taking pictures, so you only want people you're comfortable with there.
2. Keep it clean
Your photographer will be taking pics so make sure everyone is picking up after themselves! It's hard to do while everyone is trying to get ready, but and it'll reduce chaos and you'll be happy that your getting-ready photos aren't cluttered. You'll also want to be able to easily find anything and everything that you need without digging through a mess.
3. Create A Buffer Zone
If you and your fiancé are getting ready at the same venue, make sure there's a buffer zone so that you don't accidentally run into each other before your first look or the ceremony! Dedicate a bridesmaid to ensure that the man of the hour doesn't accidentally bump into you before your special moment.
4. Have a backup bin
A "backup" or "emergency" box should have everything that you could possibly need on the day of your wedding. We recommend having ibuprofen, tissues, tampons, bobby pins, fashion tape, safety pins, water, make up wipes, Band-Aids, and anything else you can think of that may come in handy. Pro tip: Tape a piece of paper to the top of the bin with a list of everything inside. Then you/anyone who is helping you will know exactly what's in the box and won't be digging for something that isn't there.
5. Provide food
Provide breakfast (and lunch depending on when the wedding is) for whoever is in your bridal suite. If they're with you the morning of your wedding, that means they aren't somewhere else grabbing a bite to eat, so they'll definitely need a meal! This is especially important for you and anyone in your wedding party who is going to be standing during the ceremony. You don't want anyone passing out!
6. Provide lots of water
Although you may be popping champagne with your girls to celebrate your big day, make sure that you and the group are also staying properly hydrated. It's easy to get carried away in the excitement and photos and forget to eat or drink, however, this will only lead to you being uncomfortable and dizzy throughout the day. Stay hydrated!
7. Make sure your space is big enough
Before picking a bridal suite, make sure you're including all of your bridesmaids, your mom/MIL, your photographer, hair/makeup artists and whoever else will be in the room in your headcount. Once you have an accurate number, make sure that you choose a space that can accommodate that many people! If your venue is providing a suite that's too small for your group, you have a few options. You can opt to utilize a bigger hotel room or AirBnB instead. This can also double as accommodations for you or your group! You can also have your bridal party get their hair and/or makeup done at a salon rather than having the stylists come to your suite. This will help reduce the overall headcount. Alternatively, you can cut back on the number of people invited to be in the room that morning.
8. Prepare some music
Make sure you bring a Bluetooth speaker so that you can play some music while you and your girls get ready! This will get the mood up and keep everyone's spirits high. It's going to take a while to get everyone ready and you don't want to be sitting in silence!
9. Have Enough Seating
It's important to make sure that there is adequate seating for the number of people in your suite. You may be in there for a while and you're going to be standing for the ceremony, so you and your girls will want to be able to take advantage of sitting while you can.
10. Have Power strips and chargers
It would be a good idea to scope out the outlet situation ahead of time. You'll want to make sure you have enough outlets available for the curling irons, blow dryers, chargers, steamers, etc. that will be in use while you all get ready. If you're low on outlets, be sure to bring a power strip on the day-of. It can be a nice gesture to bring an extra phone charger or two for your girls to use.
11. Bring Hangers
Whether you're providing them or telling the bridal party to bring their own, make sure that you have enough hangers on hand for everyone's dresses! This ensures that no one's gown will get wrinkly while you are getting ready. If you find that you're short on hangers, make sure you lay the gowns on a flat surface to avoid creasing.
12. Make Sure To Have Mirrors
You're going to have a ton of people getting ready in one room, so make sure the girls aren't having to fight over one or two mirrors. Bring a few extras or make sure that the venue is providing some.

Happy planning!