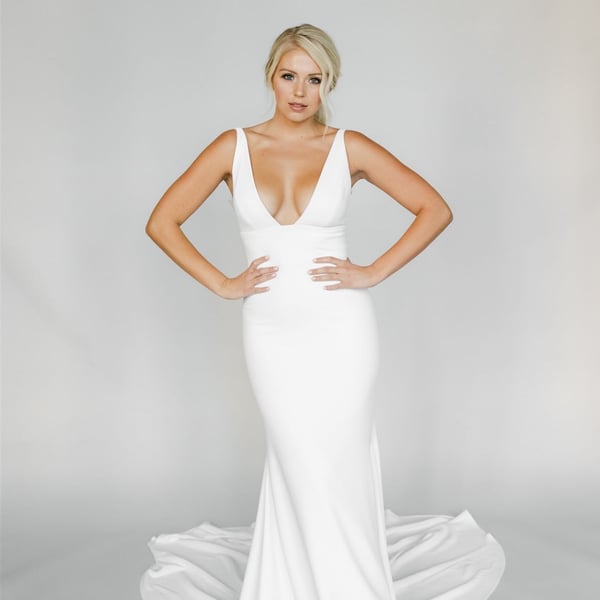 Once your vows have been said and you've finished dancing the night away, you may be wondering what you should do with your dress after your wedding. Should you sell your wedding dress? We know that this is a tough decision, so we're here to help!
Your wedding dress most likely is the most personal article of clothing you will ever own. And selling your wedding dress isn't something that you can undo. So you'll want to heavily contemplate whether or not this is the right choice for you.
First, let's review the reasons to keep your wedding gown!
You can pass it down! If you keep your wedding dress, you'll be able to offer it to your daughters and nieces to wear at their own weddings. This can create a cherished heirloom that is passed down through generations.
You can keep your gown to re-wear for a vow renewal. Nothing will make your vow renewal more special than bringing yourself and your spouse right back to your wedding day by slipping into your wedding gown.
You'll have the option to sell or donate later! If you keep your gown, you can always opt to donate or sell it later, but once you sell it you can't undo that decision. Keeping your gown will give you more time to reconsider your options, donate it when a worthy cause comes along, or sell it when you truly need to.
If you decide to keep your gown, make sure that you have it preserved ASAP! This is an essential part of maintaining your gown's beauty long-term. Even if stains aren't immediately visible to the naked eye, over time that can oxidize and become more prominent and brown, so make sure you have it professionally cleaned and preserved!
If you aren't 100% sure about selling your wedding gown we urge you to hold off on making the decision! Your wedding dress is truly a special, personal garment and getting rid of it is a permanent decision. Seriously consider this decision before coming to a conclusion. If you are sure about selling your wedding dress, there are some perks to doing so!
Wedding dresses are expensive! Selling your gown will allow you to recoup some of the costs that you incurred in purchasing it. This is typically the most popular reason for brides selling their wedding dresses after the celebration ends.
You won't have to worry about storing or moving the gown. If you're someone who relocates often, transporting your wedding dress with every move may not be a task that you want to take on, especially if it's a larger ballgown. Selling your wedding gown will ensure that you're not tasked with dealing with relocating your wedding dress during every move.
Giving your gown away can be a charitable act! Donating your gown will allow a bride who couldn't buy a new one for herself to enjoy it. This will give your gown new life as another bride loves it on her wedding day the same way that you did. This is an extremely generous act that the receiving bride is sure to appreciate.
If you are planning on selling your gown, there are a few things you should know. If your dress has been heavily altered, it may not be alterable to another bride's body. Gowns can only undergo so many changes before they begin to lose their structural integrity, so be sure to consider the adjustments you've made to your gown before passing it along to another bride. Less alterations make your gown significantly more marketable if you plan on selling it, as its closer to its original state. Additionally, gowns can typically be sized down easier than sized up. Therefore, the bride buying your gown will have a much more successful time having it altered if they're a smaller size than you. If you're selling or giving away your gown, be sure to consider all of these factors!
At the end of the day your wedding dress is precious, so be sure to seriously ponder this decision! We recommend holding onto the gown to admire and pass on to your children as an heirloom. You can always change your mind later, but once you sell your dress it's gone forever!