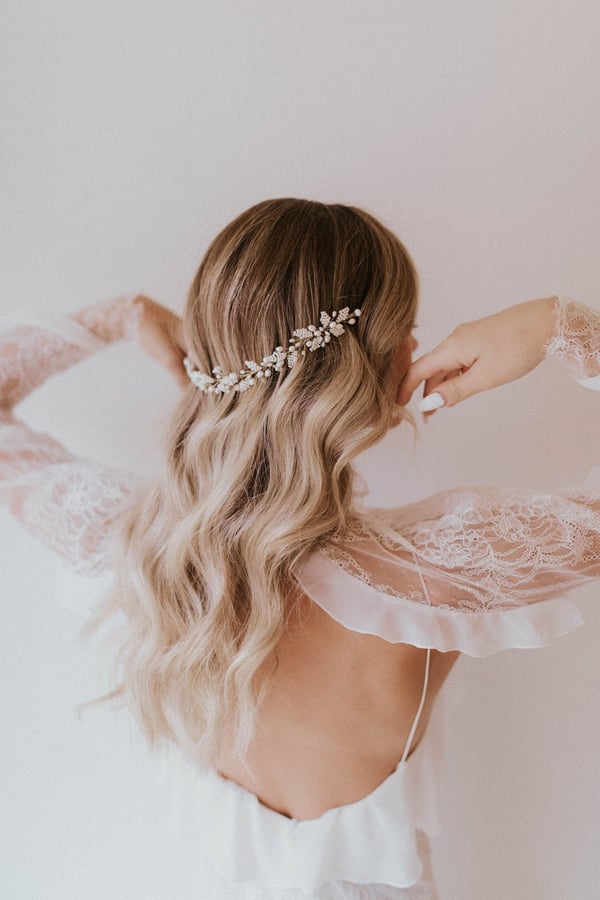 Your engagement ring doesn't have to be the only accessory that you wear on your wedding day! Although your wedding dress and ring will be the stars of the show, accessories can enhance your look quite a bit.
Accessories can help make you feel truly bridal in your gown. Even the addition of a small accessory can help transform an entire look. If you aren't sure about a dress, try it out with a veil or a belt to see if it changes your mind. In addition to enhancing your bridal look, accessories can be a great way to add meaningful touches to your wedding day outfit. Incorporating accessories worn by your relatives is a sweet way to honor them during your wedding. You can even pass down your own accessories to your own family members when it's their turn to walk down the aisle.
Check out our list of bridal accessories below to make sure you're considering all of your options ahead of your wedding:
Veils
The first accessory most brides think of when wedding dress shopping! A veil can make any gown more bridal, and it can seriously help elevate your bridal look. Whether you're wanting a birdcage veil or a cathedral length one, its sure to bring your entire ensemble together. Not sure where to start with your veil? Check out our Veil Style Guide for everything you need to know.
Hair Accessories
Regardless of whether or not you're wearing a veil, hair accessories are an option! Barrettes, headbands, hair combs, and tiaras are all accessories that will help elevate your wedding day hairstyle. Things like hair combs can also become great heirlooms to pass down through generations.
Belts & Sashes
If you love a gown but think something might be missing, consider trying a belt or sash. Belts can help accentuate your waistline and give your gown a whole new shape. Sashes can also be a fun way to play with different textures or incorporate your wedding colors into your attire.
Shoes
Since this accessory will probably be hidden from most guests, feel free to have fun with it! Shoes can be a great way to incorporate your wedding colors into your outfit without veering too far away from the traditional bridal look.
Jewelry
This can be anything from statement earrings to a simple bracelet. Jewelry provides a great opportunity to incorporate family hand-me-downs and heirlooms if you'd like to tie in relatives to your wedding look. Matching metals with your jewelry will ensure that you have an overall cohesive look.
Coverup
Whether you're getting married during a brisk season or are required to cover your shoulders for your ceremony, an elegant coverup can add a lot to a bridal look! From faux fur stoles to feminine lace jackets, the possibilities are endless.
Garter
Although many modern brides are opting out of wearing a garter, if you're doing a garter toss this is a must! If you're opting out of the garter toss tradition, this can still be a fun bridal tradition to carry out just for yourself. These are typically available in ruched satin or lace styles.
Whether you're an over the top bride looking to amplify your wow factor, or a minimalist bride wanting to add simple touches her look, accessories are a great tool to utilize. Be sure to give yourself plenty of time to find your accessories so that you aren't scrambling to find the perfect addition in the days leading up to your wedding. Veils can take months to create, and it can take time to track down heirlooms within your family. Be sure to try on different accessories with your dress so that you know your choices will create a cohesive look.