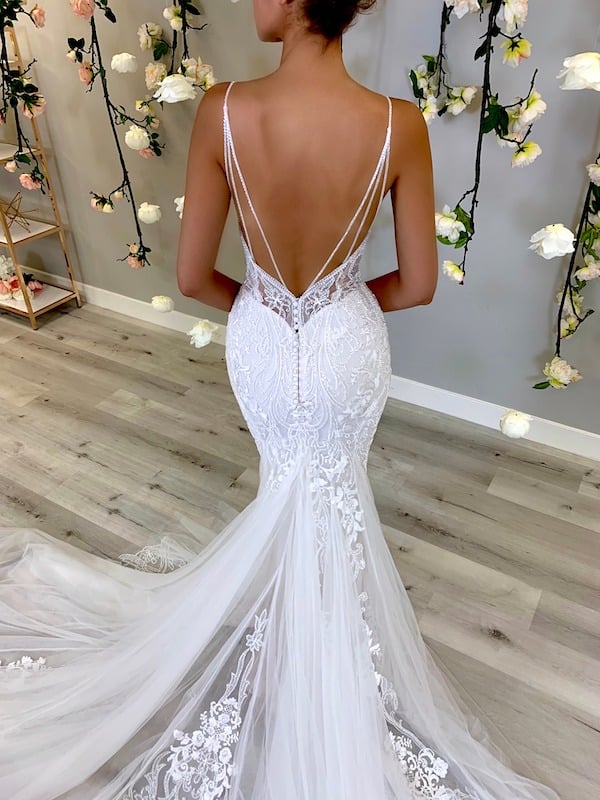 Most brides have dreamt about what they want their wedding dress to look like, but typically people don't think about the undergarments! Bridal undergarments are used to accentuate the shape of the wedding dress and keep the bride comfortable throughout the day and into the night. This can include anything from a standard bra to shapewear. If you're wondering what undergarment options are available for brides, or which undergarments you'll need for your wedding, we have you covered!
Many modern wedding gowns have things like cups and corsets included in the design. This means that the bride doesn't have to worry about wearing a bra, because the support is already built into the dress! If your gown doesn't have cups sewn into the chest or you just want extra support, you may want to wear a bra. Be sure to pick out a bra that will be hidden based on the cut of your gown. If your wedding dress features a plunging neckline or has an open back, you'll want to look into some different bra styles. Strapless and backless bras are typically the best options when it comes to wedding dresses, but this will of course vary based on your gown.
While it certainly isn't required, some brides choose to utilize shapewear in order to help them avoid dress bunching or underwear lines showing. Typically, once your gown has been altered you shouldn't encounter bunching. While this is true, if your dress is especially slinky or the material is thin shapewear can be a great option to create a seamless look. Be sure to try on your shapewear with your gown ahead of your wedding day to make sure that your dress material doesn't stick to the shapewear, which would defeat the purpose!
If you're worried about your neckline on the dancefloor, don't be! Once your dress has gone through alterations to fit you perfectly, it should typically stay up without issue throughout the night. Brides who choose a wedding dress with sleeves may want to utilize double sided tape to make sure that their dress stays flush to their chest while they dance the night away. If you're still having trouble with your gown slipping after alterations are done, you can consider asking the seamstress to add a rubber silicon strap around the inside of the bust. This will help keep your dress from sliding down throughout the day. Another option is to utilize a bustier. This can help fill out your gown and keep it in place all day and night long.
If you're not sure whether or not adding additional undergarments is right for you, talk to your seamstress! The tailor performing your alterations will be able to tell you exactly what you do and do not need in order to achieve a perfect fit. Letting your seamstress know of any worries you have (for example – the gown slipping, cleavage, etc.) will also allow them to address your concerns in the alterations of your gown. Your seamstress can always sew in cups, lessen cleavage, add an underlay, or whatever other alterations will make you more comfortable in your gown. Being open and honest with them will ensure that you have a gown that fits you perfectly and makes you feel beautiful and confident on your wedding day.
The main point of undergarments is to keep you secure as you celebrate your new marriage. As a bride, you shouldn't feel pressured to utilize shapewear if you don't need to. If your dress provides all of the support you need, then feel free to skip the undergarments! The decision is all about what's going to keep you comfortable and confident on your wedding day.