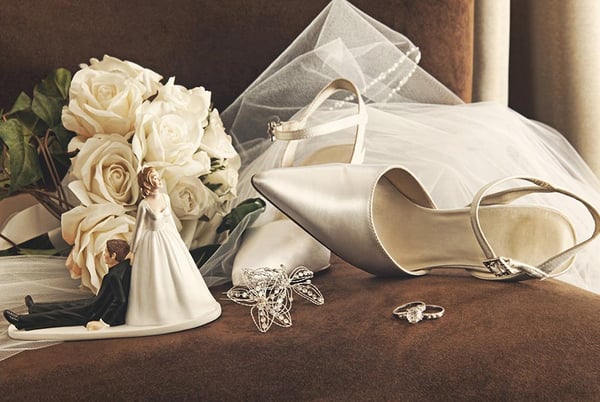 Waking up the morning after your wedding is guaranteed to be a happy memory. Whether you're headed to your honeymoon or settling into your new home, we know that there will be a big smile on your face. We also know that you'll probably be wondering what you're supposed to do with your wedding gown! It may be looking a little rough after a night of drinks and dancing, so you'll want to give it some TLC as soon as possible.
Long-term, the best care plan for your wedding gown will depend on what you plan on doing with it! If you haven't decided yet, you'll need to figure out whether you're keeping, selling, or donating it. Regardless of what you plan on doing, you'll want to have it cleaned ASAP! Whether you can see them or not, your dress is bound to have stains. Even ones that are not visible to the naked eye will set in and oxidize over time which will result in the yellowing of your gown. This is why it's essential that you have your wedding dress professionally cleaned as soon as possible after the wedding. Make sure that your gown is taken care of by someone who specializes in wedding dresses. This isn't a standard garment, and typically the run of the mill dry cleaner is not best equipped to handle a wedding dress. If you're being whisked away to your honeymoon, designate a trusted family member to take the gown to be cleaned while you're away. You can decide what you want to do with the wedding dress long-term later, but getting out stains is something that needs to be handled right awa
Personally, at Adorn we highly recommend preserving the gown. If you plan to pass your dress down to your daughters in the future, this is essential in maintaining the beauty of the garment. This will also give you the option of repurposing the dress later in life, perhaps for a vow renewal or christening ceremony. Even if you want to simply keep the gown around as a cherished keepsake, preserving is an amazing tool to extend the longevity of the dress. If you decide that you want to preserve your gown, we recommend coming up with a game plan ahead of time. This will allow you to act quickly after your wedding and get the dress into professional hands as soon as possible. Some preservation services will send you a box to ship your gown in, so if you plan ahead you can just box the dress up on your wedding night to be sent out the next day!
If you're not able to get your gown preserved right away, you'll want to store it correctly from the get-go. Although it may be tempting after a long night of celebrations, you shouldn't toss your dress on the ground! You'll want to hang it up or lay it flat in a dark, cool, and dry environment. Be sure to keep the dress of out places like the attic or garage that can be subject to varying temperatures. You also want to make sure that gown is kept out of high-traffic areas to avoid accidents or any touching of the gown. Once you have it tucked away safely, continue checking on the dress periodically until you can have it preserved. This will allow you to catch any budding issues with the gown as soon as possible.
Your dress will go through a lot on your wedding day, so be sure to show it some love afterwards. How you treat your gown immediately after your wedding will determine how it holds up for the rest of its life!