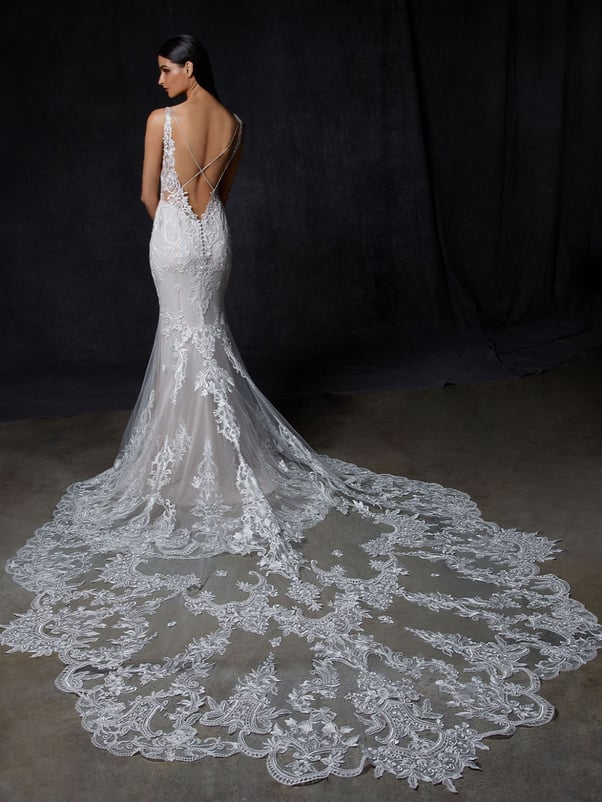 For many brides, their wedding dress is the most expensive article of clothing they'll ever purchase. As you're shopping for wedding gowns and determining what your budget is, you may find yourself wondering whether or not the gowns you like are worth the cost. Hefty price tags on wedding gowns can result in sticker shock for new brides, but there's a reason why some gowns are priced so much higher than others!
With designer gowns, you can typically expect excellent construction, top of the line fabrics, and intricate detailing. Things like hand-beaded designs or delicate lace take hours to create. Premium fabrics come with premium prices. While white crinoline runs about $2 a yard, higher quality fabrics can cost up to $100 a yard. These are all features that feed into the higher pricing found in designer boutiques. The higher quality fabrics don't just look amazing, they also feel amazing. Cheaper fabric choices can end up feeling hot and itchy after you've been in your dress for a few hours. No bride wants to worry about their dress feeling uncomfortable and rubbing against their skin while they're trying to focus on their vows!

Aside from the obvious factors that result in pricier gowns like fabrics and detailing, designer wedding dresses also tend to be constructed more thoughtfully. You won't have to worry about fashion nightmares like a strap snapping or a button popping off on your big day. Also, many high-end designers often include extra fabric in the seams of their gowns. This small attention to detail will make the alterations process go smoothly to get you the absolute perfect fit. The superior craftsmanship allows the gown to hold up both throughout your wedding night and for years to come if you plan on keeping the dress. You're guaranteed a level of durability with higher quality dresses that will ensure the gown doesn't end up falling apart.
Additionally, high end designers typically offer more customization options. Working with a high-end brand will allow you to create a truly one of a kind gown for your wedding day if your dream dress doesn't already exist on the floor. If you're a bride looking to stand out, designer dresses also tend to boast the latest and most unique designs. Since the gowns aren't mass-produced in department stores, the designer has more autonomy to utilize their creativity with each dress design. Wedding dress designers like Rita Viniris of Rivini and Hervé Monroe of Pronovias are known to show their unique styles through their gowns. If you're hoping for a gown that has a more couture feel, a designer dress is typically the way to go.
Aside from the gown itself, you also get to enjoy a premium experience when shopping at designer boutiques. Higher end shops typically offer a personalized experience that will make you feel like you're the only person in the world. Having a consultant fully focused on you, your style, and what you're looking for is going to make all of the difference while finding your dream gown in a sea of wedding dresses. The attention to detail and customized sessions are something that brides will struggle to find in big box stores.
Whether or not a designer gown is right for you is a personal choice. At the end of the day, the amount that you spend on your gown is up to you. If you plan on keeping the dress, the craftsmanship is something you'll want to consider. A gown that will be passed down through generations needs to have a level of durability that will enable it to hold up for several decades. If you're wanting a cutting-edge or Avant Garde style dress, you'll typically have more luck checking out designer gowns. Finally, if you want the experience of a personalized wedding dress shopping session followed by a champagne toast when you pick the dress of your dreams, a designer boutique is where you should start!
Wedding dresses are unlike any other garment. They are a labor of love and take an enormous amount of time and resources to create, which is why they can be so pricy! They're not meant to last a few hours, they're built to last throughout your lifetime, even after being worn throughout an entire day of celebrations. In our opinion, they're worth the splurge. After all, you only get married once!