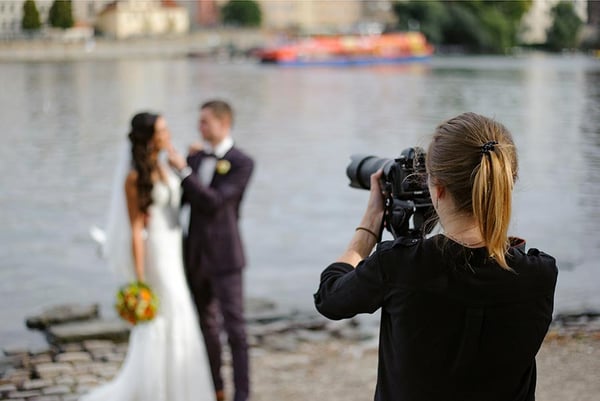 At Adorn, our goal is to put you in the gown that's perfect for you as a bride. Although all of our brides and dresses are beautiful on their own, there are some things that you can do to make your gown look even better in wedding photos! We talked with Kathy Thomas of Kathy Thomas Photography to get her top wedding attire tips and tricks for gorgeous photos.
Being wedding dress experts, we wanted to know how our brides can accentuate their wedding dress in photos. Predictably, the answer to this varies heavily from gown to gown. For anything fitted (think trumpet, mermaid, fit and flare) the key is creating angles with your body. Keep your arms off of your gown and position your body to create curves and angles to show off a fitted gown. This can be done by crossing your legs, popping a hip out, and leaning on your fiancé in photos. For fuller dresses like ballgowns the main thing you'll want to do is create movement. When walking with the ballgowns, kick the bottom of the skirt as you take steps. This will cause the skirt to lift and sway like a bell. Carrying your gown in one or both hands is also a great way to create movement and show off the beautiful layers that create the full skirt.
One piece of advice from Kathy was applicable to every bride regardless of their dress type – wear heels! Even if you are only comfortable in a kitten heel or plan on switching into flats for dancing, the best thing you can do for your dress in pictures is to wear heels. Gowns are made to be worn with heels and they will immediately elongate your torso and change your stride. If you're looking to get model-esque wedding photos, heels are an absolute MUST!
This advice carries over to your engagement photos as well! Kathy recommends that you try to dress formally, and shoes are a priority for your engagement photos, especially if this is your first time being professionally photographed. Bad shoes can throw your entire style off. Your wardrobe will heavily influence how you feel in your photos, so unless you're doing an adventure shoot, dress your best! This will be key in making sure you feel comfortable and are carrying yourself with confidence in front of the camera. If you're set on having more casual engagement photos, consider doing two looks! This will give you a fun variety of photos to choose from after the shoot.
Another tip that Kathy loves giving her brides is to utilize an overlay piece. Adding a bridal jacket, cape, or removable train to your dress essentially gives you an entire second look. These transformational pieces look amazing in photographs and offer a lot of diversity when it comes to your images. Especially if you're having your wedding in cooler months, an overlay piece is a must-have for more stylish wedding photos.
In addition to tips and tricks, we asked Kathy to share the biggest mistakes she sees brides make. Aside from wearing flats, she says that the biggest error she sees is brides not accessorizing based on their gown. Wedding gowns are designed to accentuate the upper half of your body, so necklaces are not always needed! Additionally, items like tennis bracelets are bound to snag on your gown and cause a wardrobe malfunction. Stick to accessories that will accentuate the design of your gown, not overpower it. Statement earrings tend to photograph well regardless if your hair is up or down. Remember, always try on your accessories with your gown to ensure that they won't snag the fabric or clash with the design.
While the majority of the attention will be placed on the bride's look, the bridesmaids will be photographed heavily as well! Kathy suggests allowing bridesmaids to get dresses that complement their body, rather than having everyone in the same style of dress. If your bridesmaids have different body types, it's nearly impossible to find a gown that looks amazing on everyone. Sticking to colors that look good on all skin tones is also important! Kathy's go-to bridesmaid color is black – it looks sleek and everyone looks great in a properly styled black gown. Kathy recommends staying away from neutrals and nudes when it comes to bridesmaids' dresses. Although they can certainly be stunning in photos, when the fit is complementary to everyone's body shape and skin tone, one or two bridesmaids that get washed out by neutrals will affect the most beautiful of wedding portraits.
The last piece of advice Kathy shared with us is to use meetings with your photographer to make a connection and have fun! An engagement session is a perfect time to get to know your photographer. Your wedding photographer is going to be by your side during all the intimate moments of your big day, so it's important that you feel comfortable with them. From when your dad sees you in your gown for the first time to when you're walking down the aisle, your photographer will be there to capture every moment. Get comfortable and connected with your photographer!