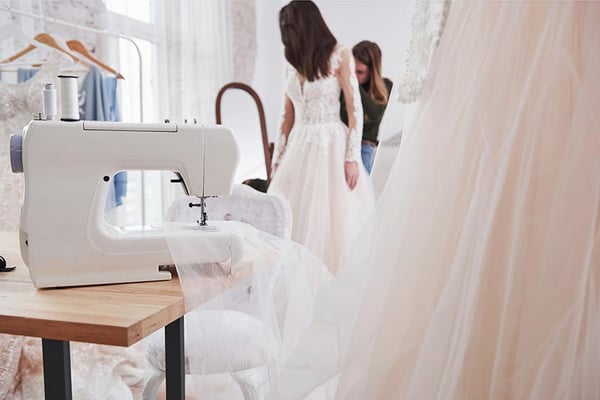 After you've found your perfect wedding dress, the next step is alterations! Having the gown hemmed, adding customizations, and taking it in or letting it out is all part of making the dress fit you like a dream. Alterations play a huge part in how your dress looks and feels, so getting them right is essential! There is a lot to know when it comes to this topic, so we did a Q&A with expert seamstress Karen, from Karen Hendrix Couture to get all of your most important wedding dress alteration questions answered!


How much time should you allot for alterations?
The timeframe for alterations depends heavily on how intricate your gown is and how many alterations you want! The first fitting should typically be about 3-6 months out, especially if you're getting married during a popular time. Due to COVID wedding postponements, alterations shops are busier than ever! Be sure to book your alterations appointment with ample time ahead of your wedding and be flexible with dates and times.

How many fittings do brides typically need?
The number of appointments you'll need depends on your gown and the extent of the alterations being performed, however most brides stick to 3-4 fittings. Be sure you have your shoes at your first fitting! The gown cannot be hemmed without them, so forgetting your shoes is a surefire way to add another fitting to your to-do list. The last fitting before the wedding typically happens around a month out. If you're traveling for your wedding, you'll want to allow for extra time just in case.

How do you choose where to get your wedding gown altered?
Stick to the experts and avoid local drycleaners. Wedding gowns are completely unlike any other garment, and most regular tailors are not trained to alter them. Karen says that when it comes to finding your seamstress, "you must do your homework". This means reading through reviews and checking bride chat rooms. Nothing will be more valuable than a real bride's experience when it comes to finding a talented seamstress!

What should you bring with you when you're getting your gown altered?
Your shoes! It's essential to bring your wedding day shoes to your appointment so that your gown can be altered to fit you perfectly with them on. Any undergarments or accessories you want to wear on your wedding day are also important to bring in.

Who should you bring with you to your alterations appointment?
In Karen's words, "bring whoever is going to tell you the truth and have an eagle eye for changes". Inviting your most honest friend or family member will ensure that you can count on their opinion to be in your best interest. Additionally, bringing in whoever will execute your bustle is a good idea! This way, the seamstress can teach them how to bustle your gown on your wedding day. Karen provides her brides with a video on how to get the bustle hooked up, but it is beneficial to have your designated "bustler" at the alterations appointment.

How much do basic alterations cost?
As with all things related to alterations, this will vary depending on the dress. As alterations become more complicated, the cost will increase. Basic alterations tend to range between $650 to $850, however the seamstress will need to see your dress in person to give you an accurate quote.

What's the biggest mistake you see brides make with alterations?
Aside from forgetting their shoes, the biggest mistake Karen sees brides make is not considering their comfort! Many brides want their gowns too tight and don't consider how comfortable they'll be while sitting. Be sure you can sit, dance, and most importantly, breathe in the gown!

How can you make your alterations experience go smoothly?
Karen's #1 piece of advice was "communication, communication, communication!". Speak up during your alterations appointment and don't be shy! This is your wedding gown and it is a big investment, so make sure your seamstress knows exactly what you want. Bringing pictures is a great way to show exactly what you're looking for without anything being lost in translation.

What are some customizations you can request to make your gown one-of-a-kind?
A relatively simple customization to implement on your gown is to add sleeves! There are endless options when it comes to sleeves, so you can really make your gown one-of-a-kind.
What is a trend your seeing right now?
According to Karen, she's seeing quite a bit of bridal capes come in! Draping down from the shoulders and splitting at the waist, bridal capes offer a beautifully unique alternative to traditional veils. Karen mentioned that these are great for brides getting married outdoors who don't want their veils moving around in the wind.