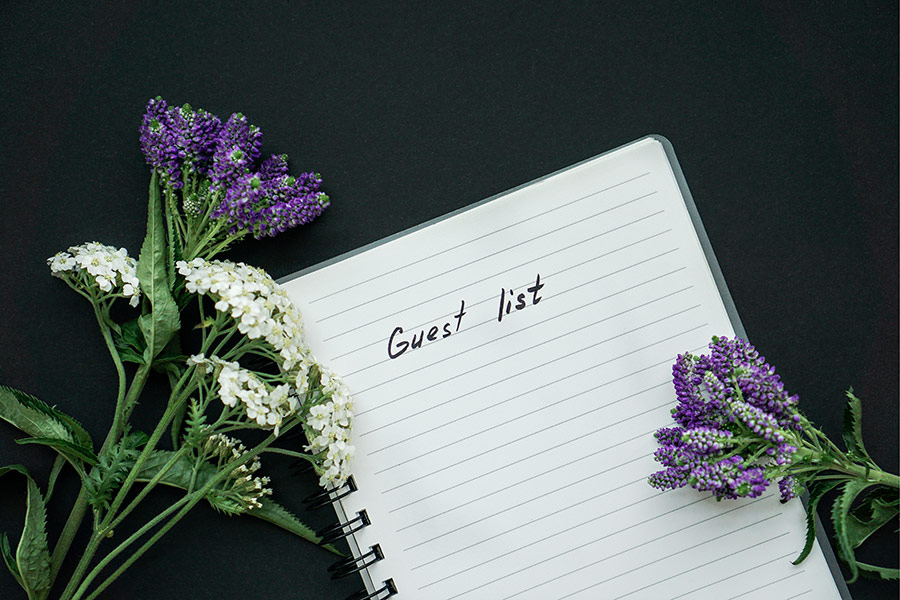 One of the very first things you'll need to do when you begin wedding planning is create your guest list, and it's no secret that this can get out of hand fast! From cousins to coworkers, a couples' guest list can spin out of control very quickly and they may find themselves wanting to reduce that final number.
There are plenty of reasons why a couple would want to cut down on their wedding guest list! When it comes down to it the easiest way to reduce the cost of your wedding is to reduce the number of guests. If your venue charges per a guest, even cutting a handful of people from your invite list can result in substantial savings. This decreases your invitation, catering, bar, rental, cake, linen, transportation, and floral costs. Aside from the financial aspect, some couples prefer a smaller more exclusive gathering. Having tons of guests means that your time during the wedding is going to be spread thinly. Opting for a smaller group is more conducive to a personal and intimate event.
At the end of the day, your reasoning for wanting to shrink your guest list is not important and the decision is totally up to you and your spouse. After all, it's your day! You should only be surrounded by the people you want to celebrate your new marriage with. Here are some things to consider when trying to reduce your guest list:
1. Begin with your "dream list"
Sit down with your fiancé and create a list of every single person you'd love to celebrate your wedding day with regardless of venue size, cost, etc. Take note of your starting number and get ready to work from there.
2. Be realistic!
Once you have your dream number you can evaluate how much you need to cut down, or if you need to reduce the list at all! If you're way above the typical venue capacity or you don't think it'll be feasible to stay within budget with that many people, it's time to make cuts.
3. Consider non-negotiables
Non-negotiable guests are people that you would never consider not inviting to your wedding. This would include your wedding party, immediate family, and anyone else that you absolutely can't get married without. Evaluate the size of the list and see how much wiggle room you have from there.
4. Think about timing
When debating whether or not someone should be removed from your guest list, consider the timing of your wedding. If you're wedding isn't happening for over a year, think about how your relationships with guests will change between now and then. If you're not that close to someone at the beginning of your engagement, you may find yourself even more distant by the time the wedding comes around.
5. Think about plus ones
Another great way to reduce the size of your guest list is to cut down on plus ones. Although ideally, it'd be nice to give everyone and anyone a plus one, it'd result in a ton of strangers attending your wedding! Establish a rule for who gets a plus one and who doesn't and try to be consistent across all of your guests to maintain fairness.
Example: Only couples who have been dating for >1 year receive plus ones or Only married couples receive plus ones.
6. Think about kids
Making your wedding child-free is an efficient way to cut down your guest list. Depending on the average age of your guests, children take up quite a bit of the guest list. Although wedding venues typically offer reduced pricing for children under a certain age, this cost can still add up. Additionally, children usually still count as guests, so that's one less adult you'll be able to invite. Consider that this isn't always the most popular choice among guests who are parents, however, adult-only weddings are gaining popularity in recent years.
7. Consider your relationship
If you're considering removing someone from your guest list, ask yourself a few questions about your relationship with them.
Would you be disappointed if you weren't invited to their wedding?
When was the last time you hung out outside of a group?
Would you and your fiancé go to dinner with them 1:1?
These questions can help put the importance of inviting this person into perspective. At the end of the day, you're paying quite a bit of money to have them attend your wedding, so consider whether you think it's worth it!
8. Prepare to stand your ground
Family and friends don't tend to hold back when it comes to voicing opinions about wedding planning. Despite this, it's your wedding, so don't let family members sway you into inviting distant family friends that you haven't spoken to in years if you don't want them there! This day is only about you and your fiancé, no one else.
Whether you're cutting your guest list to meet a venue requirement, save money, or create a more intimate event, it's completely your decision and no one else's! The goal is to have your wedding surrounded by your most important family and friends, so make sure that your guest list reflects that. Once you have your guest list in the perfect spot, check out our invitation blog here!