BERTA PRIVÉE
If a jaw-dropping gown is what you're looking for, you may be a Berta bride in the making. Our new Berta wedding dresses feature opulent feminine detailing that results in a refreshingly enchanting line of bridal gowns. Whether you're getting married in a garden or a ballroom, the daring and romantic designs will give you the perfect show-stopping look that your guests will never forget.
BERTA PRIVÉE Details
Price Range: Starting at $7,000


Size Range: 0-12


Locations Available: Nashville, TN
OUR CURRENT FAVORITE WEDDING DRESSES FROM BERTA PRIVÉE
Something Powerful
Tell The Reader More
The headline and subheader tells us what you're offering, and the form header closes the deal. Over here you can explain why your offer is so great it's worth filling out a form for.
Remember:
Bullets are great
For spelling out benefits and
Turning visitors into leads.
23 - P08
The 23-P08 gown by Berta Privee perfectly showcases all of the soft, sexy, and romantic details that Berta brides are known for. The sultry fitted gown made of delicate sequined chantilly lace will hug your curves in all the right places before flaring out into an eye-catching mermaid silhouette. The stunning semi-sheer paneling combined with the eyelet lace and bow detail at the neckline offer the perfect balance of sexy and sweet that is sure to have guests' heads turning.


Size Range: 0 - 12


Locations Available: Nashville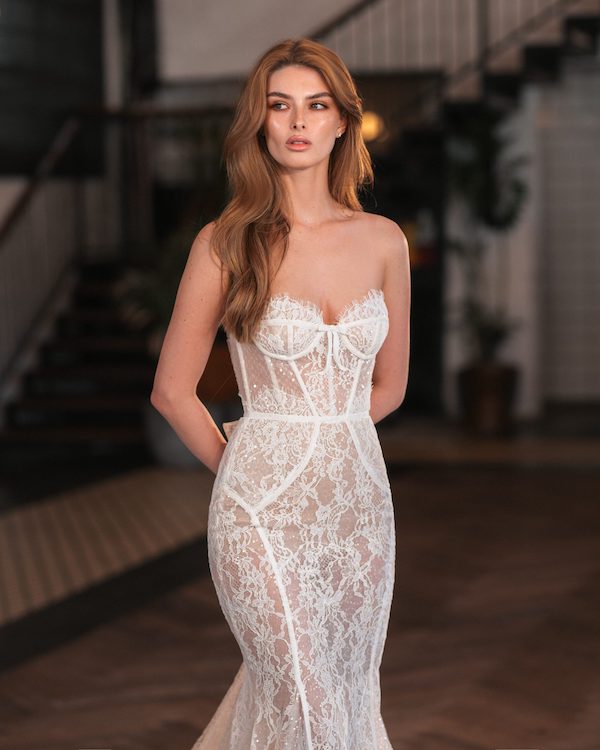 22 - P107
Berta's 23 – P107 wedding gown is perfect for brides who want a balance between sultry, sweet, and feminine on their big day. The slinky fit and flare silhouette pairs perfectly with the romantic soft lace and semi-sheer nude underlay that continues all the way through the train. Brides will love the flattering corset boning and waist-defining beading on the front of the gown. The back of the gown is equally as stunning with exposed corset boning and a flirty bow detail for a sexy yet sweet open back look.
Size Range: 0 - 12


Locations Available: Nashville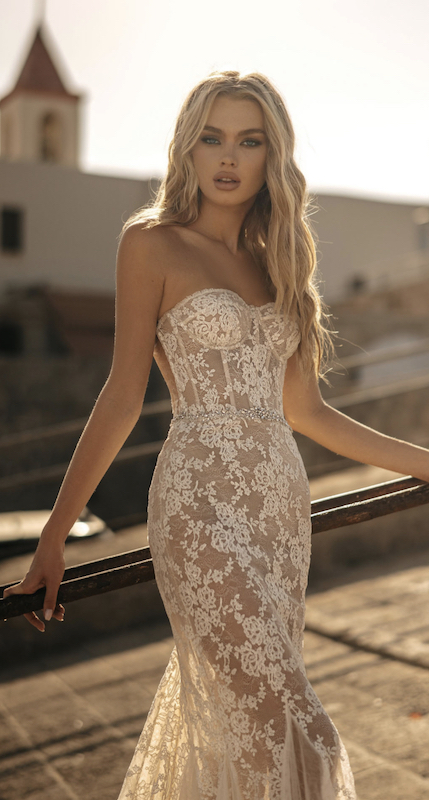 20 - P105
Delicate mermaid wedding gown with finely detailed lace accents in the Berta second-skin signature fit. Its sweetheart neckline and off the shoulder demi-sleeves make for a gown of feminine decadence.


Size Range: 0 - 12


Locations Available: Nashville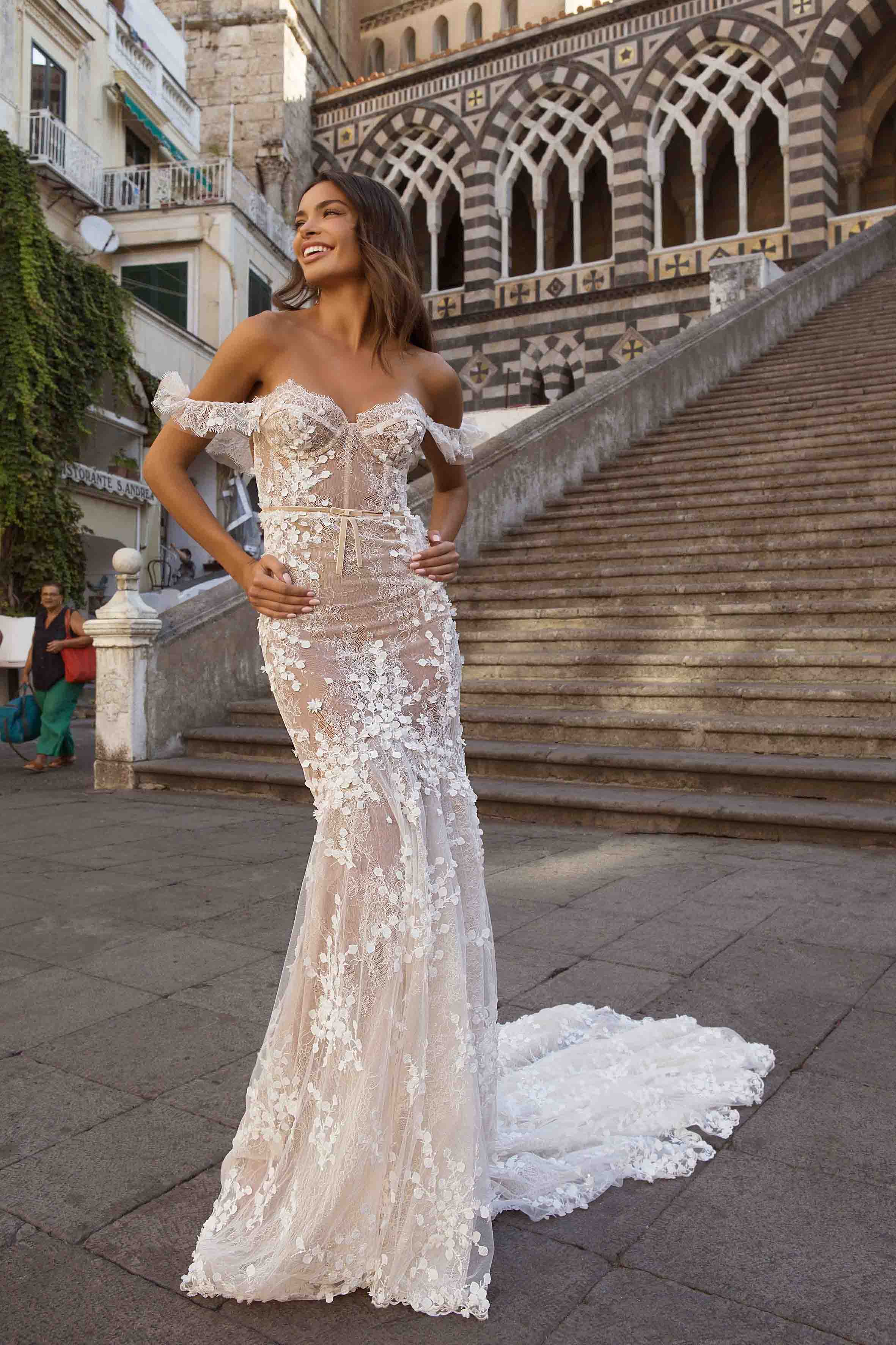 21 - P01
Romantic corseted sweetheart bodice mermaid wedding dress crafted in Chantilly lace and adorned with cascades of dimensional flowers and shimmering beads. Cinched at the waist by a gemstone embellished belt.


Size Range: 0 - 12


Locations Available: Nashville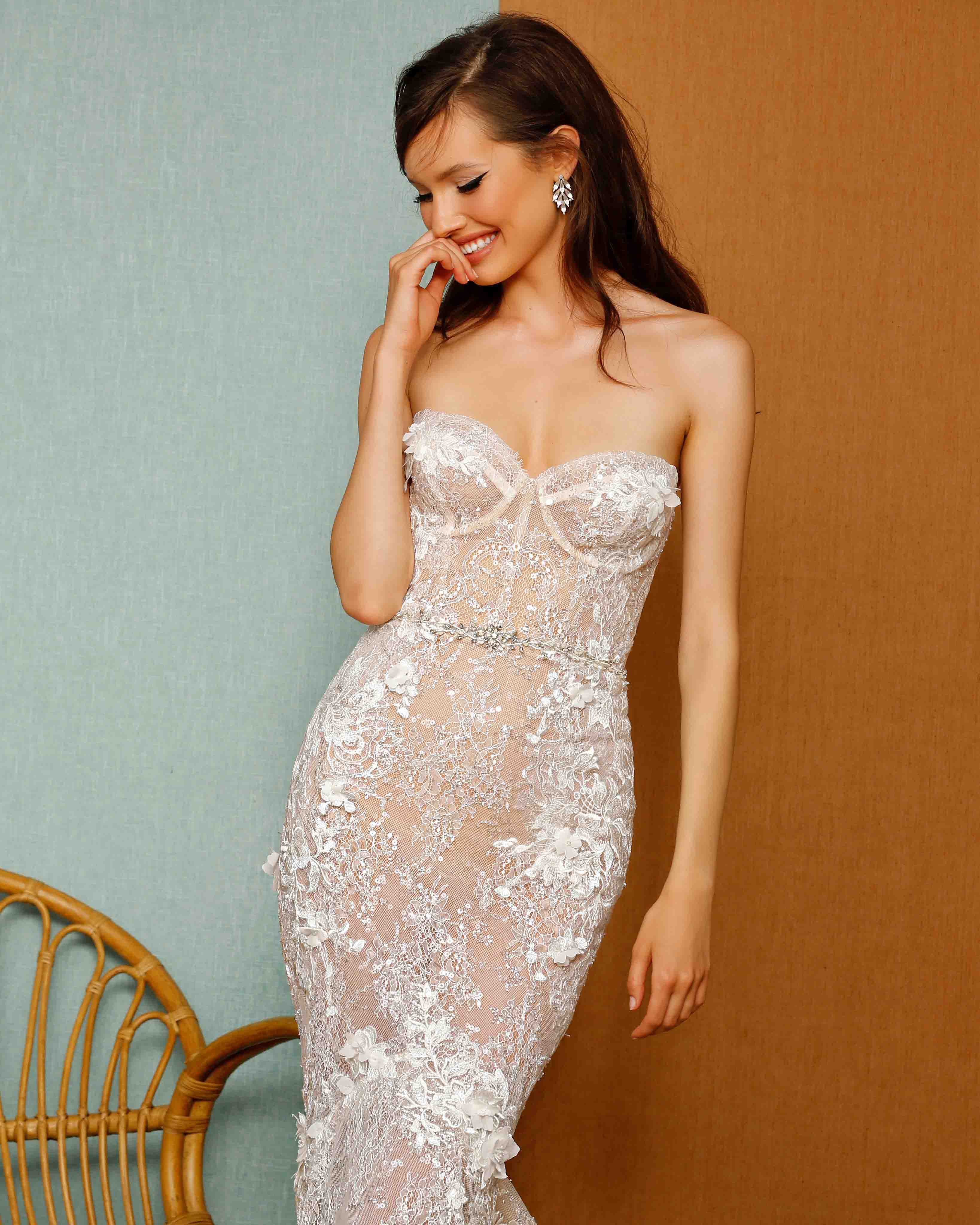 About Berta


Berta Balilti is the sole designer in the BERTA Fashion House. She founded the Israeli-based brand in 2004 and has since expanded it internationally to retailers in North America, South America, Europe, Asia, and Australia. The New York Times praised her as one of the leading bridal designers to cause the recent shift towards more sexy, bold, and daring gowns. Taking a look at her most recent collection, it's no wonder how she earned this accolade. Utilizing feminine silhouettes and intricate floral detailing, she is able to create gorgeous unapparelled romantic and sensual designs.
BERTA PRIVÉE Wedding Dress Style


If jaw dropping detail and romantic feminine designs are what you're looking for, BERTA Privee is the collection for you. Using luxury materials, Berta Balilti combines classic silhouettes with modern sexy details to create truly dazzling wedding gowns. Her designs are always crafted to perfection with an unmatched attention to detail. The current collection features floral wedding dresses with fun sleeves, risqué backless wedding dresses, dramatic wedding dresses with ornate trains, timeless wedding dresses with lace, and flashy wedding dresses with sparkle and bling. The Privee collection pays tribute to the BERTA brand's origins, which are rooted in taking classic silhouettes and pushing the boundaries with the details. Our favorite wedding gown from the Privee collection feature elegant off the shoulder necklines, exciting puff sleeves, classic mermaid silhouettes, and traditional timeless lace.