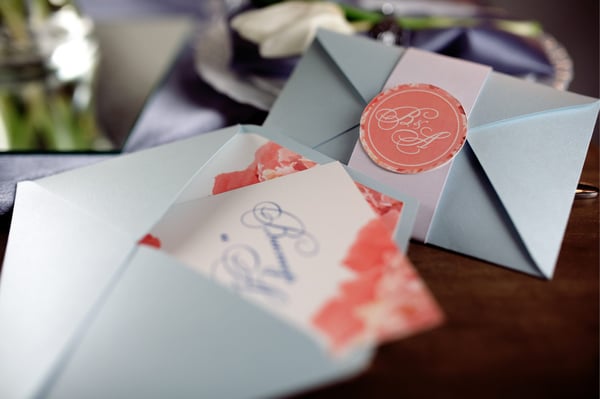 Invitations are one of the most important parts of wedding planning, as they provide guests with the essential information needed to attend your special day! Inviting your wedding guests may seem like a simple task, but when you consider timing, RSVPs, and the rest of the invitation suite, it can become overwhelming very quickly! We're here to share everything you need to know about sending out your wedding invites.
Invitations
Traditionally, invitations are sent out 6-8 weeks prior to your wedding. This gives guests ample time to clear their schedules and finalize any travel plans. If you're planning a destination wedding, you'll want to give your guests even more time and send invitations out about 3 months in advance.
Save the dates
Save the dates are typically sent out much earlier at around 6-8 months before the wedding. This ensures that your guests have your wedding on their mind and won't book travel and events conflicting with your day. This also gives guests a heads up if they'll be attending any pre-wedding events in the coming months, like engagement parties and bridal showers.
RSVPs
Hopefully your guests will return their RSVPs as soon as they can, however, setting a due date is critical to ensure that you get a headcount in a timely manner. Your RSVP deadline should be about 2-3 weeks before the wedding. You'll want to have a finalized guest list in time to solidify your seating chart and give caterers an official number. If guests miss the deadline, consider calling them to give a quick reminder.
Essential invitation information
In terms of what needs to go on the official invitation, you'll want to include any and all critical information tied to the wedding day. Smaller details can be covered in other aspects of your invitation suite or on your wedding website. Keep reading to view a list of everything you should include on your wedding invitations:
The wedding host: Traditionally this refers to whomever is paying for the wedding. Whether you want to list your parents' names, your names, or just stick to a more generalized invitation line is up to you!
The couples' names: Traditionally when listing the couple's names, the brides name comes first.
The Details: Traditionally the date and time is fully spelled out. For example, you'd spell out 5/7/22 as Saturday, the seventh of May, two thousand twenty-two, at six in the afternoon. Many modern invitations are featuring roman numerals to indicate the time instead, it's up to the couple's preference! For the location, the name of the ceremony venue is always listed, while the street address is optional.
Post Ceremony Info: A reception line let's your guests know that you're hosting a party after the ceremony! If the reception is at a different location than the ceremony, you'll want to indicate that. Many couples opt to keep the reception line simple, then include a separate insert card with more details in the initiation suite.
Dress code: While not required, this can be very helpful to wedding guests! If you don't include a specified dress code on the invitation, be sure to make the information available on your wedding website if you have one.
Wedding website: If you have a wedding website, be sure to share it with your guests! It's up to the couple if you want to include this on the physical invitation or another part of the invitation suite.
What to Include in the invitation suite
Although the actual invitation is the most important thing to send to guests, there are a few other items that can be extremely helpful to send out ahead of your wedding!
Response Card: In addition to your invitation, you'll want to send a response card and an envelope so that guests can RSVP. This should come with an inner envelope and postage so that your guests can easily respond to your invitation. This can be skipped if you're opting to do a digital RSVP.
Directions: An optional insert that couples sometimes choose to include is a card with specific directions to the ceremony and reception venues. This can be especially helpful if your venue is difficult to find.
Reception Card: If your reception is taking place at a different venue than your ceremony, it can be helpful to include a reception card in your invitation suite. This is basically a smaller, and simpler version of the invitation that lays out the details for when and where the reception is taking place.