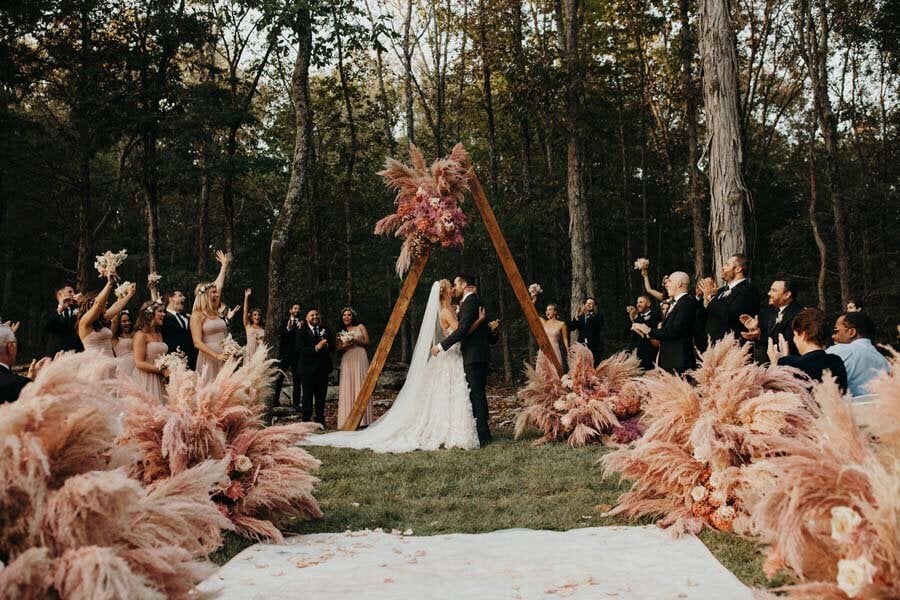 Most brides want their special day to be memorable, but having your event stand out in a sea of weddings can be hard to achieve! That's why we consulted Sara Fried of Fête Nashville to find out how she suggests brides give their wedding a WOW factor that guests are not soon to forget. Check out our Q&A with her below:
What's the best "wow" factor For an unlimited budget?
This situation obviously comes with lots of wiggle room, so Sara had a ton of ideas come to mind! One of the benefits of living in Nashville is having country music celebrities accessible to you, so sometimes Sara's couples will opt to have the first dance song performed by the actual singer or songwriter. She occasionally even surprises the bride and groom with this! Sara has had musicians like Rascal Flatts, Montgomery Gentry, Lonestar, Kacey Musgraves, Tyler Rich, Ashley Campbell, Brett Young and Matt Stell perform at her weddings, and you can't get much more "wow" than that!
Although celebrity appearances are a guaranteed "wow" moment, Sara encourages her clients to maximize their budgets on the perfect venue, the best entertainment, and photography. She emphasizes, "Please don't skimp on photography – you will be so grateful in 10…20 years" and we couldn't agree more! If you're investing time and money into creating a gorgeous day, you're going to want amazing pictures to remember it by. She also highlights creating Instagram-worthy scenes with custom furniture, accent pieces, and traditional photo booths.
What's your favorite Cost-Effective "Wow" Factor?
For brides that want more budget friendly options, Sara says anything that brands the event will make it seem more customized and memorable. Her team loves to utilize images from the wedding (monograms, illustrations of venues, invitation designs, etc.) and create custom cocktail napkins, drink stirrers, favor containers, etc. These are also perfect vehicles to show off the couple's new combined last name!
What was the most memorable "WOW" moment?
"We love guests to have completely different experiences during the ceremony, cocktail hour and reception. Feel free to have different atmospheres and décor. One of our favorite weddings included a ceremony at an ornate Catholic church with all white flowers, followed by a cool rooftop cocktail hour filled with natural textures, including lots of woods and leathers, and a bourbon tasting bar. Then guests had to walk through an 85' long floral wall bursting with colors into a black, white and gold Black tie reception. I loved every minute of that night! Guests were continually surprised!".
What is a must-have for all weddings?
According to Sara, the #1 must-have for weddings is transportation for guests. She says this is a non-negotiable when bars are concerned. Other wedding staples are steamed linens, amazing lighting, and double the number of candles you'd expect!
What recent trend is gaining popularity with brides?
Lately Sara has been seeing extravagant menus make a comeback with her couples. They're doing more cooking, grilling and frying onsite for the most fresh, best food experiences. Couples are opting for several course dining experiences with fun items like mini charcuterie boards.
A personal touch that she's seen couples make is serving family recipes that have been pass along to the chefs. This is an amazing way for guests to share special personal dishes with their guests. When when it comes to food couples should do what they want rather than what's expected. People are going to remember amazing, personal dishes over standard banquet hall food.
Sara has also noticed brides prioritizing sustainability. Brides are becoming more eco-conscious and opting for earth-friendly products, produce from local forms, and products from small businesses for their wedding.
What Should brides avoid when trying to wow guests?
It's important to remember that not everything you see on the internet is feasible at a large wedding. Brides should do their best to avoid getting swept away with the gorgeous pictures on Pinterest. Although you can absolutely plan a beautiful, memorable, over the top wedding, Sara highlighted that it's imperative to ask a professional to determine which photos are real weddings versus which are style shoots. She went on to say, "so many Pinterest & IG photos are style shoots – which is done in a controlled environment with a singular table set-up". These situations look amazing on camera at these shoots, but logistically they don't translate well to a wedding of 250.
What is Your opinion on wedding favors?
Sara has noticed favors fall by the wayside, and we agree! Couples are opting for fun additions like late night snacks in lieu of traditional favors. Things like food trucks, warm doughnuts, sliders, and truffle fries are all happily welcomed by guests towards the end of the night. Sara's team always finds a way to personalize the late-night snack experience by incorporating local snacks, chocolates, drinks, honey, etc.
What Other Tips Can You Give Brides?
Sara's essential tip for brides is to invest in a second shooter to be on site. A second shooter is someone that your photographer brings along to assist them in taking pictures throughout the day. In her words, "second shooters are non-negotiable", and we totally agree! Your photographer can only be in one place at once, so having two cameras floating around will make your day run much for efficiently, especially if you aren't doing a first look. Having a second shooter allows your photographers to divide and conquer, in addition to getting photos from both ends of the aisle during the processional and recessional.
Click here for more information on Sara Fried and Fête Nashville