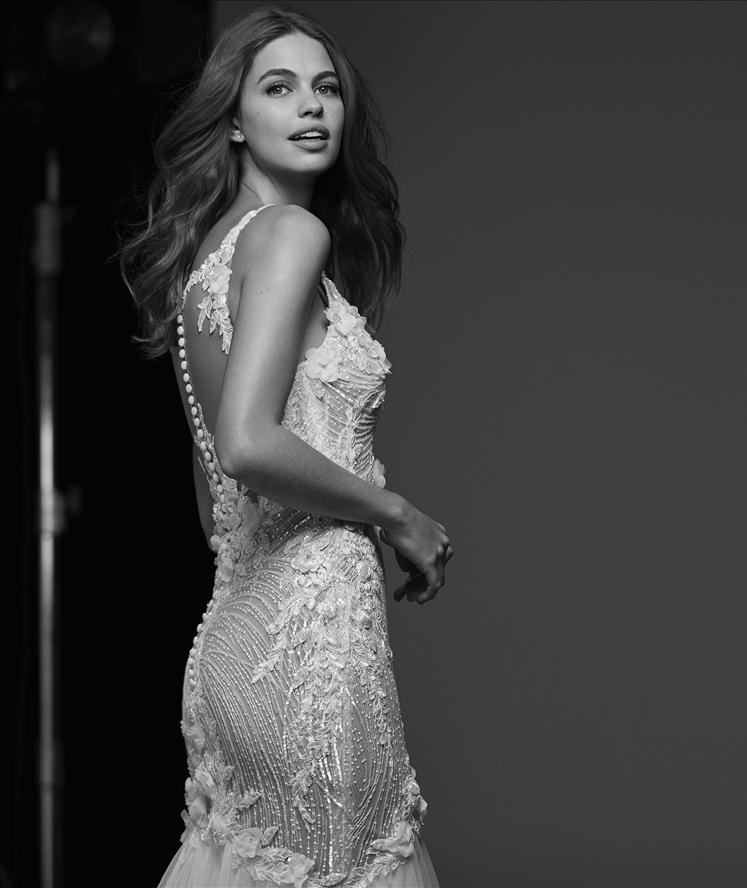 Almost every bride walks into their bridal appointment knowing the style of dress that they want, however, the number of brides who leave the salon with that style is a completely different story. Whether the bride's original "dream dress" falls short, or a consultant encourages them to try on different styles just in case, it's super common for brides to end up falling head over heels for something totally unexpected.
There are a few reasons why brides end up choosing a bridal gown that is totally different from what they initially envisioned. First of all, most brides have never seen themselves in a wedding gown! Although you've probably spent hours looking at gowns online, most brides have never actually tried on wedding dresses before and don't know what they truly look like in person. This means that fabrics and shapes you didn't think were for you can end up looking amazing. Additionally, many brides think that they are confined to a certain style or silhouette due to their body type, but we are here to tell you that isn't true! Regardless of body type, height, or anything else you are not limited to a certain wedding dress silhouette.
Another reason why a bride may end up choosing a wild-card gown is because their original choice didn't make them feel bridal. That beautiful gown that you picked out online may end up looking totally out of place once you have it on. Although we encourage brides to step out of their comfort zone while shopping, your dress should still be an authentic representation of who you are. The dress you thought you wanted may feel totally wrong, while a dress you never expected can give you that giddy feeling. You may envision something one way in your head, but you won't know if it's truly your perfect wedding gown until you try it on.
This may have you wondering how you can find your dream dress when it's so common for brides to abandon their original plans when they start trying on gowns! Our #1 tip for brides is to scratch every itch they have during their first appointment. If you think you even might want a wedding gown with sleeves, try them on! Even if you are sure you want a mermaid wedding dress, try out a ballgown. You'll never know for sure whether something is or isn't for you until you try it on in person, so get every single itch out of the way during your first appointment. This will make it easier to start narrowing down things that you actually want in your wedding gown.
Another trick that can be helpful during wedding dress shopping is to gradually make small decisions. Asking someone to pick from a sea of beautiful white wedding gowns can feel like an impossible task! Making small decisions first, like minimal gowns vs lace, or strapless vs straps is much more manageable. These small choices will keep the process going and help lead your stylist in the right direction. This also helps keep the experience fun, while still progressing. This way, when it comes time to pick "the one" it doesn't feel like such a daunting decision since you've already made a ton of small choices leading up to this one.
Our final piece of advice in relation to wild card wedding dress decisions is to cut yourself some slack! Don't put a tremendous amount of pressure on yourself. Picking a wedding dress may seem like a daunting task, especially if you're indecisive, but we promise that it's a lot easier than you think! Don't psych yourself out or put yourself in a negative mindset before you even begin. At Adorn, we strive to make every appointment a fun and enjoyable experience for our brides. Trust your stylist, step out of your comfort zone, and go with your gut. We promise that you'll find your dream gown, even if it's totally different from what you were originally envisioning.