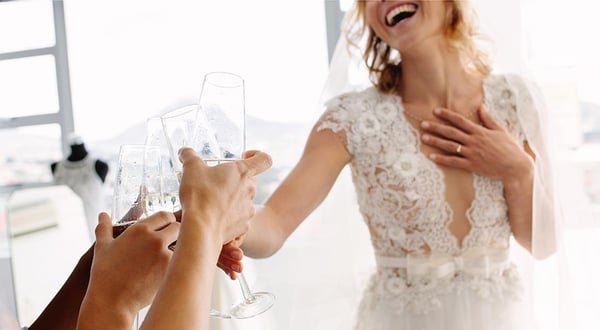 So, you are ready to start trying on wedding gowns… you've picked out a bridal salon and are ready to booked your appointment, but who do you bring? Who you invite wedding dress shopping will have a huge impact on your experience, so choose wisely! There are no set rules for who you are or aren't obligated to bring to the appointment; it's completely up to you as the bride.

We've seen more dress shopping entourages than we can count, so we're sharing our advice on who to bring when picking out your perfect wedding gown below:
Opinions…everyone has one
Everyone that you bring to your dress appointment is going to come with their own opinions on what you should or shouldn't be looking for in a dress. Make sure that whoever you invite is going to support you despite their own preferences and style. Your entourage should encourage you to go with whatever you're confident in, even if it isn't what they'd pick for themselves. At the end of the day, you're the one making an investment and wearing the gown.
Quality over quantity
Typically, brides bring between 1-5 people, but our stylists recommend keeping your entourage to about 3 guests. If you think there's no way you could commit to your wedding dress without a certain person's approval, then that's who you should invite. It's a special day, so you should only surround yourself with your absolute favorite people.
Hype wo(men)
Getting your wedding dress is a once in a lifetime event, and we know that you're excited to start trying on gowns! Invite girls (or guys) who are going to match that excitement and make you feel beautiful throughout the appointment. Even if you're looking to bring someone that will be brutally honest with you, they still need to be able to hype you up when you're clearly in love with a gown! Surrounding yourself with supportive friends is a great way to ensure a fun and successful bridal appointment.
Family
Everyone's families are different, and you shouldn't feel like you need to invite every relative you have to help you pick out your dress. Between parents, siblings, grandparents, and in-laws, the number of family members you have can add up quickly. Some brides are super close with their families, and some aren't, but either way you aren't obligated to bring anyone! Only invite a family member if you truly cherish their opinion and know that they'll be supportive.
Flying solo?
An underrated option! If you're a bride that is easily overwhelmed, or you know that you're confident in your own decision making, consider going shopping alone. You'll be completely free of outside opinions and persuasion, leaving you to focus on what's really important, which is what you want. You can always do your first appointment alone to figure out what you generally want, then bring your entourage back with you once you're ready to commit to the one.
Try this
A good way to keep your entourage small while also remaining COVID-19 friendly is offering to Facetime people in lieu of them being with you! If it isn't realistic to have everyone important to you at the dress appointment, consider Facetiming them once you've said yes to the dress! They'll still be included in the day from afar, and you won't have to worry about dissenting opinions since you'll have already committed to the gown.

All in all, follow your gut and remember that less is more when inviting your wedding dress shopping entourage. Planning a wedding is stressful enough, picking out your dress should be all fun! Be sure to surround yourself with people who are going to make your bridal appointment a happy one.

Regardless of who you bring, our stylists will always be on your side. Our job is to send you to your wedding in a dress that you love and are confident in. Adorn is doing everything we can to keep our brides and stylists safe during COVID-19. We are following Nashville's reopening phases and allowing the bride and 3 guests to come in for each appointment during phase 3. We will also provide a zoom link to include up to 3 other guests remotely.