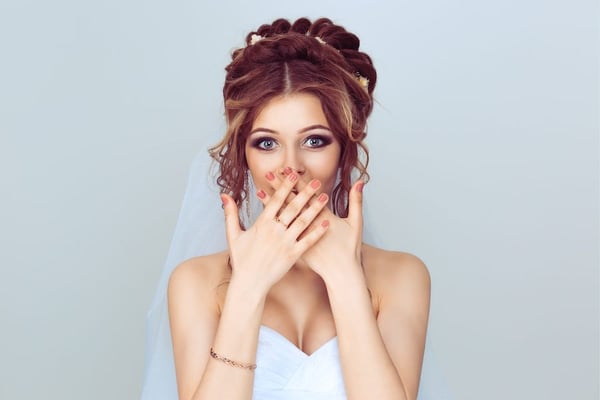 For many women, wedding dress shopping is the best part of wedding planning. It's one aspect of wedding prep that's truly all about the bride, and you should enjoy every second of it!
While wedding dress shopping is something to look forward to, it can also be stressful for many women. Managing your entourage, budget, and everything else that comes with the experience can easily become overwhelming for many brides. Luckily, we're here to help! Adorn is sharing the top 7 mistakes we see brides make while wedding dress shopping.
Avoid these missteps to ensure that your shopping trip is as fun and enjoyable as possible.
1. Trying on bridal dresses out of your price range
Trying on a gown that is way out of your price range is the biggest no-no in wedding dress shopping. It's essential that you be open and honest with your consultant about your budget at the beginning of the appointment. Our goal is to find you the wedding dress of your dreams, so we will only put you in dresses that you can say yes to.
While it might be tempting to try on an extravagant dress that catches your eye, it's not worth the risk of falling in love with it. You don't want to be left deciding between an over-budget dress and sacrificing other aspects of your wedding. You set your budget for a reason, and we want to help you stick to it. We're not here to break the bank or hearts! We highly encourage our brides to do their research on each boutique's price range before booking an appointment to make sure it's a good fit.
2. Inviting opinionated family members
Every bride has a different relationship with her family, and your decision on who to bring along to your appointment should be based on your situation! Some women consider their mom to be their best friend, while others rely on other loved ones for an encouraging voice. On a similar note, many women wonder if they're supposed to bring their mother-in-law to the appointment. Fortunately, it's your choice! There are no set rules on whether or not you must invite your MIL, so the decision should be made based on your personal relationship with her.
In general, it's important that you only bring supportive people whose opinions you cherish. Yet for some brides, the decision of who to bring or not bring shopping can be complicated, especially when it comes to family. Headstrong family members are the #1 culprits when it comes to oversharing opinions, and for some brides we suggest not inviting loved ones that would add stress or indecision. Some brides work to streamline the process by first shopping with a few close friends and then bring their mom or other family member whose approval is important back for a follow up appointment to look at favorites and choose the final dress.
3. Too many shops in one day
Bridal appointments are tailored to be enjoyable, but too many in a day can quickly turn the experience into a chore. Going from store to store can become exhausting for both you and your entourage.
More shops mean more gowns, which can lead to confusion. If you visit 5 salons and try on 5-8 gowns at each shop, by the end of the day you'll have tried on 25-40 wedding dresses! Trying on that many dresses is guaranteed to end in the bride being overwhelmed, and unable to make a decision.
On average, brides visit around 3 salons when shopping for their dress. Our stylists recommend trying on no more than 6 dresses at each salon.
4. Not having an open mind
Most women come to their appointment with a dress style picked out, but it's important to keep an open mind! Even if you think you know exactly what you want, having a one-track mind during the appointment can be limiting. Dresses look completely different on your body than hanging up, so you may think a style isn't for you until you try it on. It's extremely common for brides to end up falling in love with a dress that's completely different from the one they had originally envisioned. At a minimum, you can't officially rule any particular style out without trying it on.
Your stylist has your best interest in mind and wants nothing more than to put you in your dream dress, so trust them! They are wedding dress experts and will know what dresses will have you looking and feeling your best. Being close-minded may result in you missing out on finding your dream dress, so be open to dresses that you didn't initially consider!
5. Partying the appointment away
Getting your friends together to go wedding dress shopping is bound to be a great time. Especially if your girls haven't been together in a while, you may be tempted to start celebrating ASAP, but proceed with caution!
With champagne being commonplace at many bridal salons, things can quickly get out of hand if you aren't careful. If you're going to multiple shops in a day and aren't being cautious, you can easily end up with a tipsy and unmanageable entourage.
Trust us – this is a big decision and you'll want you and your girls to have clear heads when making this purchase! Be cautious when it comes to champagne and save the celebrations for after your appointments.
6. Shopping too late or too early
If you just got engaged – congratulations! You may be tempted to start going to salons right away, but depending on your wedding date, that may not be the best option.
Typically, we don't recommend that you begin shopping more than a year in advance of your wedding. Getting your gown too soon can result in dress regret as new collections are released and influencing details of your wedding fall into place. On the other hand, you don't want to wait until the last second and risk having to pay rush fees. Wedding dresses are typically made-to-order and take about 5-6 months to be handmade just for you. In addition to this, you also must budget time for alterations, generally about two to three months before your wedding.
We suggest starting your dress shopping 9-12 months before your wedding to give yourself time to shop around without leaving you second guessing your choice.
7. Not taking extra costs into consideration
While wedding dresses are typically a large investment, the price tag isn't the only number you need to budget for. In the excitement, many brides forget to consider taxes, alterations, shoes, accessories, and the veil. These costs can add up and quickly take a chunk out of your original budget.
Be sure to include these items when setting your budget to avoid any surprise expenses while wedding dress shopping.
At the end of the day, all that matters is you getting your wedding gown. We'll do everything we can to put you in the dress of your dreams so that you can feel confident and beautiful on your wedding day.