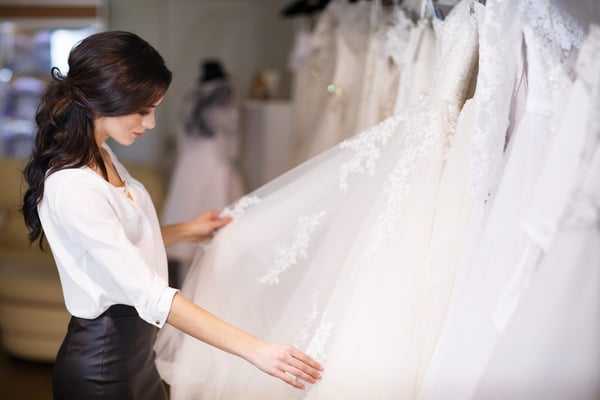 You may know exactly what types of dresses you want to try on during your appointment, but many brides are left wondering what to wear to the store!
Short answer: Wear whatever makes you comfortable! We want your bridal appointment to be as enjoyable as possible, so we encourage you to come in whatever makes you feel confident. Looking for more details? Here's what our stylists have to say about preparing for your bridal appointment:
Stick to nude
While most wedding gowns feature layers, lace, and patterns that will cover your undergarments completely, some lighter dresses may be less opaque. In order to avoid your undergarment color showing through any of the dresses, stick to skin-tone underwear on the day of the appointment. If you're planning on trying more form fitting dresses like mermaid and trumpet silhouettes, stick to thinner underwear to avoid panty lines.
Skip the bra
Most bridal gowns feature built in bras and cups that allow brides to skip the typical undergarments on their wedding day. You shouldn't have to worry about wearing a bra, but if you want to wear one, go for it! The same goes for shapewear. Once your dress is altered to perfectly fit your body, there shouldn't be a need for shapewear, so you can skip it at the appointment. If you opt to wear a bra or shapewear to your appointment, try to choose something nude and strapless.
Accessories
The only accessory we recommend wearing to your bridal appointment is your new engagement ring! Additional jewelry like necklaces, bracelets, earrings, etc. tend to get in the way when trying on gowns. They also pose a threat of snagging on the fabric. If you are already sure of what jewelry you want to wear for your wedding, feel free to bring it separately and we can put it on after you're in the dress!
Forget the heels
Since you'll be trying on unaltered sample dresses, it's unlikely that they will fit you perfectly. This means the gowns you try on are bound to have some extra length at the bottom. When you're stepping in and out of gowns that are long on you, wearing heels can be a burden. Especially if you're a shorter bride, avoid tripping over extra dress length and skip the heels. If you're planning on going with a traditional floor length dress, the shoes won't be visible anyways! Choose shoes that are easy to slip on and off so that we can get you into your dream dresses as easily as possible.
To makeup or not to makeup
It can help to visualize yourself as a bride if you feel like you look your best on the day of the appointment. For many women, this means wearing makeup! Makeup should be kept simple during your dress appointment to prevent it from transferring onto the gowns or distracting from the dress itself. If you feel most comfortable makeup-free, then skip it! We want you to come in whatever will make you feel confident and bridal.
No Spray Tans
While we can all appreciate a good bronze, spray tans are not very bridal boutique friendly. Spray tans tend to transfer onto the dresses and leave orange stains, which is not the magical experience you'll want during your appointment!
Documenting the moment
Want a picture with our "I Said Yes to my Dress" sign? Wear a cute outfit and a smile! We'll provide the lettered sign and the adorable "ADORNed in Nashville" wall mural for your photo op.
Long story short, come to your appointment however you feel most confident and we'll do the rest!