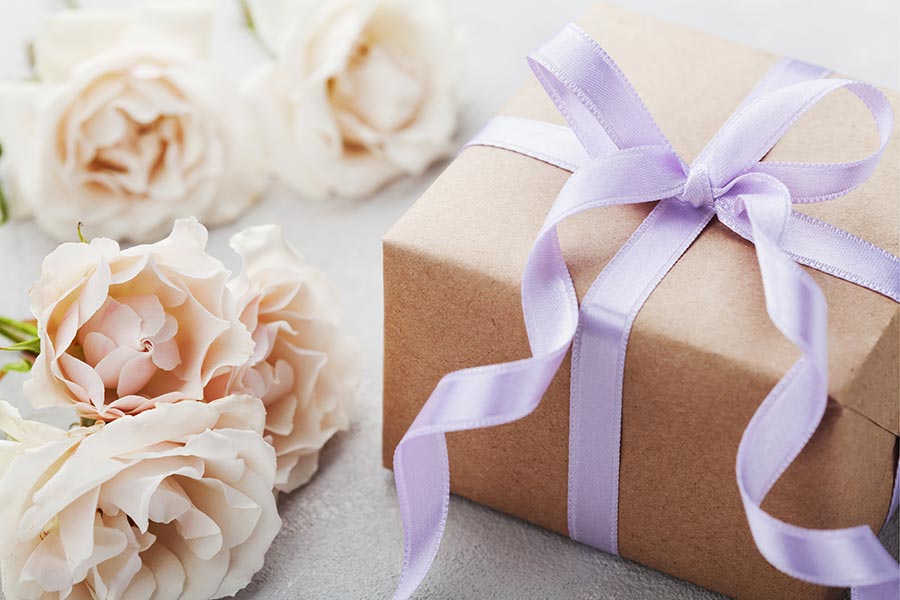 How many gifts should be on your wedding registry? When should you begin registering for gifts? What types of gifts are acceptable to add to your registry?
Wedding registries may seem pretty straightforward, but once it's time to create yours, you may find yourself with a lot of questions. We've included all of our answers to the most common questions below to help make this process easy for you.
What is a wedding registry?
A wedding registry is a list of items pre-selected by the couple that guests are encouraged to choose from when picking out gifts. This registry can be used for the wedding gift, as well as any pre-wedding events like the bridal shower, engagement party, etc. A registry helps ensure that guests are getting the couple things that they definitely want and need, while also making sure that they're not getting duplicate gifts from anyone.
When should We Create A wedding registry?
It can be helpful to set up your wedding registry soon after getting engaged in case people want to celebrate the occasion! If you're in no rush, just make sure that you have it up a few weeks before any pre-wedding parties so that guests are able to reference it while shopping.
How do We set up a wedding registry?
Traditionally, registries were set up at a few department stores like Macy's or Bed Bath and Beyond, but most people are now opting for a "universal registry" which is where all of your registered items across all stores are kept in one place. You can still create individual registries at stores in person or online, they'll all be linked to one location with a universal registry. This is much more convenient for guests and it's also much easier for you to keep track of everything this way! There are tons of sites to choose from, for example, Zola, Simply Registry, Wedding Wire, and the Knot all offer universal registry options.
What Items Should We Include?
Your wedding registry is meant to be made up of things that will help you and your new spouse build a home together! Common items include cookware, dishware, linens (sheets, comforters, towels, etc.), and décor. Realistically it can include anything you want!
For couples that have already lived together for a while, they may find that they already own many of the traditional registry items, in that case, a good alternative can be to register for experiences. You can register for things like a gift card to your favorite restaurant, dancing lessons, movie tickets, and anything else that would be a fun date night for the two of you. You can also include honeymoon activities! Registering for honeymoon excursions or activities like scuba diving or a couple's massage is a fun way for people to send you non-physical gifts.
How Many Items Should We Include?
The number of items you should include on your registry depends on the number of guests you're inviting! The rule of thumb is to include a little more than 2 gifts per number of guests invited. So if you're inviting 100 people to your wedding, you should include about 225-250 items on your registry. Although this may seem high, it ensures that guests will have ample options when it comes time to pick out your gift. It's also important to continue adding to the registry as needed. If almost all of your items under a certain price point are scooped up right away, you'll want to add more so that guests don't feel forced into more expensive gifts because they're the only ones left!
How Much Should Items Cost?
It's important that you offer a range of price points for your registry. This way, people will be able to contribute as much as they're comfortable with. You'll want to include items under $25, under $50, under $100, $200, and so on. It's totally fine to register for some more expensive items as long as your guests have other options. Sites like Zola offer the option to assign multiple people to a gift. For example, if you register for a super nice $400 blender, you can set it up as a group gift. This way, multiple people can make contributions to it if they can't afford the entire gift on their own! This makes it much easier on your guests' wallets and it increases the chances of you getting that item.
Can We ask For Money?
Asking for money instead of gifts used to be considered taboo, however, it's become much more common and socially acceptable in recent years! Many couples would prefer money gifts for the honeymoon or to help save for a house, and that's totally okay. There are even registry sites specifically geared towards cash gifts, such as Honeyfund. Additionally, universal registry sites like Zola and the Knot allow you to include a "cash" option among the rest of your registered gifts. You can label them "house down payment" or "honeymoon fund" so people know exactly what you're wanting the money for! This makes it super easy for guests to make cash contributions. Labeling what you plan on doing with the funds is also a good way to get older guests on board who may be reluctant to give cash gifts because of tradition. It's best to lean on digital features like this rather than explicitly saying that you prefer cash on your website or invitations.

We hope this helps! Remember, anyone who sends you a wedding present should receive a thank you note. This goes for both physical and cash gifts. Check out our 5 Tips When Writing Thank You Notes blog post for advice on making your thank you note writing process as smooth as possible.