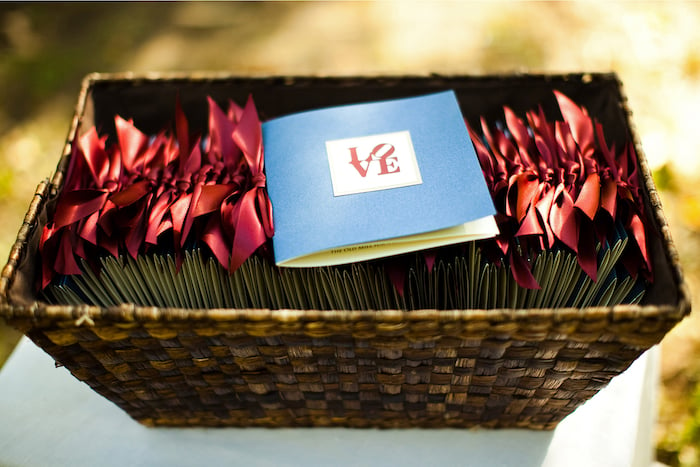 Things like save the dates and invitations are typically at the top of mind when it comes to wedding stationary, but once you've sent those out its time to consider other things like programs! If you're trying to cut costs or save paper, you may be wondering if wedding programs are essential. Check out our thoughts below on what programs typically include, what they're good for, and what they lack.

Traditionally, programs are documents handed out to guests as they arrive to the venue outlining the order of events for your ceremony. The document will include readings, songs, vows, candle lightings, rituals, or whatever you've planned for your ceremony! Additionally, they'll typically list all of the ceremony VIPs including the bride and groom, wedding party, officiants, parents, etc. Whether these are necessary totally depends on your wedding, but there are certainly pros and cons for providing them.
Pros:
Keeps guests in the know: Programs allow your guests to know exactly what's coming throughout the event. If you have a longer or more complicated ceremony this can be helpful so that guests know what to expect. If you're having a non-traditional ceremony, this can be a good opportunity to highlight anything unique that you're doing.

Shout out VIPs: The program is a great way to give a nod to anyone who has made your wedding day possible. Highlighting your wedding party in the program is a good way to make them feel special and appreciated. Including a small note at the bottom thanking your parents or anyone who has been supportive throughout the planning process a sweet gesture that they're sure to love.

Keep attendees cool: If your wedding is outdoors during the warmer months, guests will appreciate programs to use as makeshift fans. If you want to lean into this, you can even attach sticks to the bottom of them to make it easier to use.

Can add personal touches: Programs offer a great way to showcase details about the couple. Including how the couple met, fun facts, pictures, and pets are all great ways to add a personal touch to wedding programs.

Spotlight important info: If you're concerned that not all of your guests paid attention to your wedding website, the program offers another opportunity to share important details with them. You can share essential information like your hashtag, when cocktail hour starts, and where the after party will be.
Cons:
The cost: This is probably the most obvious downside of doing programs! Having to print programs for each guest can add up quickly. After paying for save the dates, invites, postage, signage, and more, paying for yet another wedding stationary item may have you second guessing the decision. Skipping the programs allows you to save those funds for other things.

They get thrown away: Although most wedding stationary eventually ends up in the trash, things like invitations and save the dates are essential and typically get a moment to shine on your guests' fridges. Additionally, many couples hold onto their wedding invites and some even display them in their home! This isn't typically something that happens when it comes to programs.

Short lived: Guests don't usually hold on to things like wedding programs, which means that they are only being used for the length of your ceremony. If you're having a 10-minute ceremony, that means that you're printing out programs for people to use for only 10 minutes.

The environment: At the end of the day printing out 100+ pieces of paper for your ceremony isn't necessarily environmentally friendly. Many wedding stationary options are actually not recyclable, especially if they feature glitter or metallic print. This means that after your ceremony all of that paper will end up in the trash.
Alternatives:

1 per group: If you want to cut back on costs or environmental impact, you can offer 1 program per a couple or family. This should significantly reduce your total programs while still giving guests an agenda.

Signage: Another option is to feature one or two signs with the entire program listed out at the entrance. This way your guests will still know what's planned for the event without giving them their own program. This can also be great for pictures!

Use your website: If you want to skip the programs all together, you can feature the agenda on your website! This way guests will still be able to see the program without you incurring additional printing costs.

So…are wedding programs necessary? It all comes down to your ceremony and your guests. If your ceremony is short, sweet, and familiar to most of your guests you can probably safely skip the programs. If your ceremony is longer, more complicated, and features unfamiliar or non-traditional aspects, you should probably provide them! If you're somewhere in-between or want to cut costs, consider an alternative option.