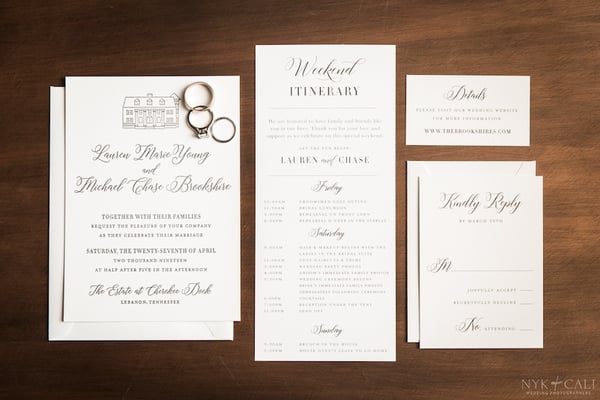 Once the celebrations have come to an end, thank you notes are an integral part of the wedding tradition! You'll want to express your gratitude to those who celebrated your new marriage alongside you. Check out our 5 top tips and tricks to make your thank you note experience as seamless as possible!
1. Stationery
Although thank you note stationery is easy to put on the back burner amidst wedding planning, it's best to start thinking about thank you notes sooner rather than later. If you want your thank you notes to match the rest of your invitation suite, or to be included in your photographer's photos, order them ahead of time with the rest of your statione ry! Alternatively, for a personal touch, wait until after the wedding to utilize wedding photos in the thank you note.
2. Recipients
Anyone who gifted you something for your wedding should receive a thank you card, however, it is a nice touch to send thank you notes to everyone who attended as well. It's not required to send your vendors thank you notes, however, be sure to leave a good review for any businesses who helped make your day special!
Additionally, tagging vendors and utilizing their hashtags when posting wedding pictures is another way to show your gratitude for the work they did!
3. When to Send
While it can be super tempting to put this task off, it's best to not procrastinate! Ideally, thank you notes will go out as soon as possible after the wedding and/or your honeymoon. Tradition typically allows for between three months to one year from the wedding to send out thank you notes.
4. Keeping Track
Especially with larger wedding guest lists, it can be a daunting task to keep track of what each guest gave you. In addition to the standard gifts you'll receive from your wedding guests, you'll typically also receive a combination of plus-one contributions, group gifts, and presents from people who don't attend the wedding. With several moving parts, it's best to keep an ongoing excel sheet of all gifts you receive, who sent them, and when. This will allow you to stay organized as your gifts come in the mail without the risk of misplacing a paper list amidst all of the incoming cards and gifts!
Pro Tip: Make a copy of your wedding invitation list in excel and add a column for gifts. Fill this out as you receive everyone's RSVPs and gifts in the mail. This way, you have everyone's name, plus one, and address ready to go right next to the gift they gave you when it comes time to write thank you notes!
5. What to Write
Wondering what to write beyond the typical "thank you"? Start off by ensuring you address the note to anyone who contributed to the gift. When addressing the letter, it's important to consider group gifts, plus-ones, family gifts, etc. Thank the addressee both for the gift and attending the wedding, if they were able to make it. If they weren't able to attend, mention that they were sorely missed! Include specifics by mentioning the gift they sent you, why you loved it, and/or how you plan to use it is a thoughtful touch that will show how much you appreciate their generous present! Lastly, consider buying a stamp beforehand with your new return address and last names. This will make addressing the thank you notes a breeze, plus you can use it forever!
Here are some examples you can use as you begin writing your thank you notes:
Example 1: Plus One Gift
Dear Emma and Dan,
Thank you so much for the amazing blender you gifted us! We've been making breakfast smoothies with it nonstop. John and I are so happy that you were both able to attend the wedding. Celebrating with you there meant the world to us.
With Love,
The Josephs
Example 2: Didn't Attend the Wedding
Hi Aunt Maria!
We absolutely love the beautiful baking dishes that you gifted us. Thank you so much for your generosity! These were much-needed and we're so excited to use them. Your presence at the wedding was dearly missed, but we promise to send you lots of pictures! We will have to see each other soon so that we can bake you something in the new dishes.
Love Always,
The Martins
Example 3: Gift Card/Money
Dear Alice,
It was wonderful seeing you at the wedding! We are so happy that you were able to make it. Aaron and I are beyond grateful for your generous Macy's gift card. With us moving into a new apartment there are a ton of things that we didn't realize we needed, and your gift will help us tremendously. Thank you so much for thinking of us as we start our new lives together.
Warmly,
The Millers