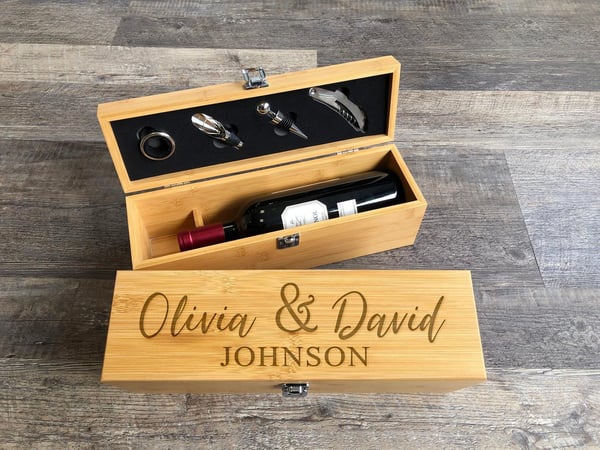 You're sure to be showered with endless presents leading up to your wedding, however, the most special gift that your fiancé receives on your big day will be the one you give her! The tradition of the bride-groom gift exchange usually takes place on the morning of the wedding, or in the days prior. You'll want to gift your bride something meaningful and timeless that she'll be able to hold dear forever. If you're struggling to land on which gift your bride would appreciate the most, we have your back! (Brides reading this should feel free to drop a hint and share this post with their fiancés!) Check out our list of gift ideas for your bride-groom gift exchange below:
Personalized Wine Box
Consider gifting your bride with a personalized wine box! Wooden or stainless-steel wine boxes engraved with your last name or initials can be a special and personal gift. Include a nice bottle of wine that the two of you can share on your first anniversary!


Engagement Ring Painting
Gift your bride with a custom painting of her engagement ring! There are artists on both Instagram and Etsy that specialize in watercolor engagement ring paintings. These pieces of art are a gorgeous, personal, and unique way for your bride to admire the ring you got her. These can take a while to create, so plan ahead!
Letter
A traditional wedding day gift is a letter for your bride to read before she walks down the aisle or you have your first look. The letter is typically heartfelt sentimental message letting your bride know how much you love her and how excited you are to marry her. Consider having the letter engraved on glass or framed so that she can cherish it forever. If you go this route, you can also display the memorialized letter in your home as a daily reminder of your love.


Champagne Glasses
Champagne glasses are a classic wedding gift! Have the glasses engraved with the first letter of your bride's last name, her monogram, or "Mr." and "Mrs." for a personalized touch. The two of you can use these glasses to cheers to your marriage year after year.


Home Drawing
Commission a drawing of your first house or apartment together and have it framed. This gift will forever be a reminder of where the two of you started your life together. It's a gift that can come with you both from home to home forever.
Jewelry
When in doubt most brides will always be happy to receive jewelry as gift, both on the wedding day and throughout your marriage! Stick to something simple and classic that will be a staple piece in her collection forever. If you exchange gifts before the ceremony, she may even opt to wear the piece for the wedding.


Wedding Band Engravement
Having a special message, inside joke, or anniversary engraved on your bride's wedding band is a sweet surprise that she's sure to love. Since she'll only be wearing the engagement ring leading up to the wedding, you should be able to have the wedding band engraved at the jeweler prior to the ceremony without her noticing.
Personalized Ring Box
Give your ring boxes an upgrade ahead of the ceremony as a sweet surprise for your bride. Wooden ring boxes engraved with your initials can be a personal touch that will look great in your photographer's detail shots. Another option is engraving a sweet message or your anniversary on the inside of the box.
Return Address Stamp
A custom return address stamp with your new combined last name and address is a sweet gift that signifies you two starting your lives together. You will both be able to use this gift throughout your marriage any time you send a letter. It'll also be a lifesaver when you're sending out thank you notes after the wedding!
Sentimental Map
Have a map of somewhere special to you printed out and framed! Places like the location of your first date or the spot you proposed will be remembered forever with this sentimental gift. Your bride will also get a sweet reminder of these moments before walking down the aisle which is sure to put a smile on her face.
Champagne
A bottle of bubbly is a great celebratory gift on any occasion. Cheers to your future together after the ceremony or address the bottle to her and her girls to enjoy while they get ready!
Although the gift exchange is traditional, it's totally optional! Feel free to adjust the tradition in whatever way is best for you and your fiancé. It's your day, so celebrate however you like. If you decide to exchange gifts your bride is sure to appreciate whatever you decide to gift her, so trust your instinct on what she'll love the most! Congratulations on your engagement and happy planning!