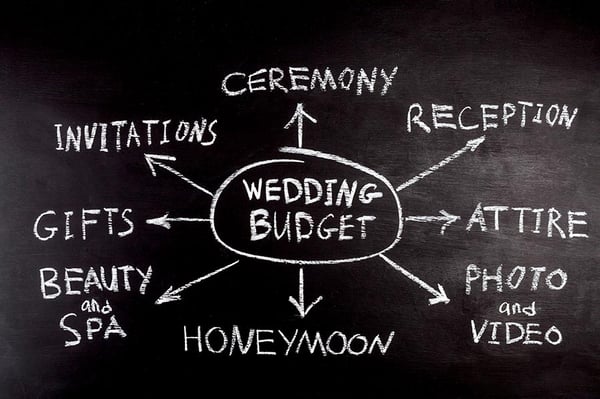 It's no secret that weddings can get pricey fast! In fact, the average U.S. wedding typically costs over $33,000. Luckily, it's not impossible to have your dream day without completely breaking the bank! We've put together some tips and tricks that will help you bring down the total cost of your wedding.
Digital Stationary
Opting for digital RSVPs, invitations, or both is a great way to cut back on costs. The cost of the physical stationery and postage can add up quickly, especially if you have a lengthy guest list. Utilizing a digital invitation and RSVP list is also a great way to easily keep track of all of your guests' responses.
Unconventional Dates
Fridays, Sundays, and most holidays often have better pricing for both venues and vendors. Sticking to months outside of peak wedding season (June through September) can also help dramatically reduce vendor costs.
Out of State Vendors
If you're having your wedding in a large city, it can sometimes be cheaper to pay an out of state photographer or DJ to travel to you. Many vendors offer special pricing for events that require travel, so don't be afraid to look elsewhere!
Cosmetology Students
Hiring a makeup artist in training from your local cosmetology school can be a great way to cut back on hair and makeup costs! These students are still learning but can offer great services at incredible prices. Be sure to carefully look over the artist's portfolio and do a trial prior to the wedding!
Officiant
Having a friend officiate your wedding will save you the cost of a traditional officiant! The average fee for a conventional wedding officiant ranges from $500 to $800, so your savings could be significant. Thank your friend by gifting them with a bottle of wine or a thoughtful present.
Skip the Programs
Between the invitation suite, signage, and menus, stationary costs can add up quickly. Consider skipping the programs and opting for a large acrylic, chalk, or wooden sign at the ceremony entrance with the programming instead. This will still inform your guests of the ceremony progression while saving you the cost of printing individual programs.
Repurpose Bridesmaids' Boutiques
Utilize your bridesmaids' bouquets as décor after the ceremony! Prepare empty vases on your reception tables and have your bridesmaids drop their bouquets into them before the evening begins. This will save you on centerpieces since these bouquets usually go to waste! You can also utilize a bridesmaid's flowers for the bouquet toss if you don't want to ruin your bridal bouquet or pay for a separate one to toss.
Family Style Meals
Food is one of the largest costs incurred while planning a wedding. Rather than paying per plated meal, opt. for family style meals! These cost-friendly options are a crowd pleaser since they offer guests the option to choose what they like without having to wait in a buffet line.
Small Cake
Keep the cake simple and small for the cutting ceremony but offer a dessert bar or sheet cake to guests instead. Wedding cakes can be extremely pricy, so choosing an alternative dessert is a great way to cut back on costs. A DIY candy bar is a cost-effective dessert option that's always a crowd pleaser!
Smaller Wedding Party
Every additional wedding party member comes with additional costs. From groomsmen gifts to hair and makeup for bridesmaids, the cost can multiply quickly with a large wedding party. Your bridesmaids should be your absolute favorite people anyways, so keep the wedding party small to reduce costs.
Setting a budget before you start officially planning will help you manage your spending throughout the process. Stick to vendors within your price range and don't go overboard with unplanned additions! Staying within your budget may seem like a difficult task, but you'll be happy that you did so in the long run. Hopefully, these tips will help keep you in budget as you plan the wedding of your dreams.