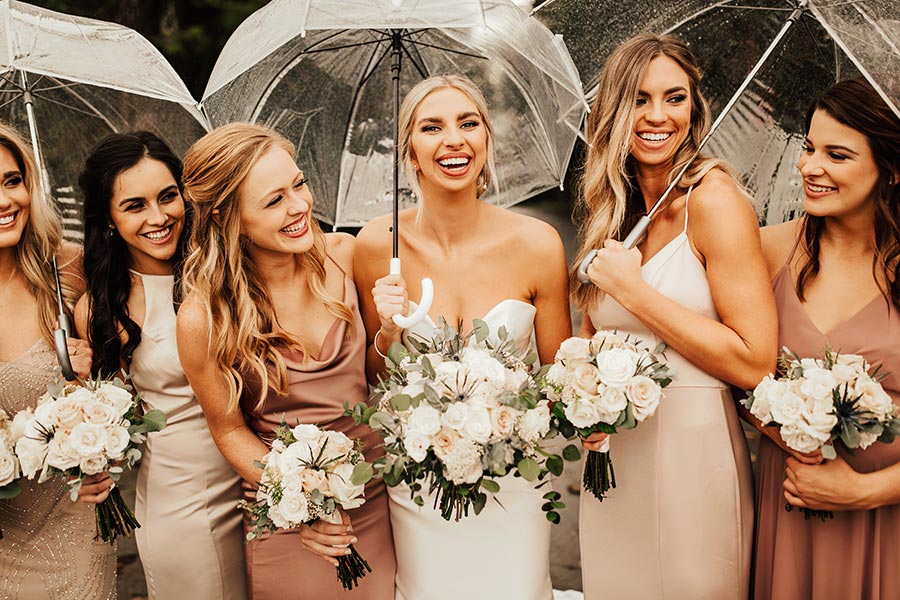 There is no shortage of things that the bride must take care of prior to her wedding, however, the wedding day itself is a completely different story. Although you are technically hosting your guests for your wedding, you do not have the typical hostess responsibilities! It can be tempting to jump in and try to take care of everything yourself, but as the bride you shouldn't have to! Check out our list of 7 things you aren't responsible for on your wedding day below:

1. Setting up décor
Although you'll want to plan out where your décor will go ahead of the event, it's not your job to set it up on your actual wedding day! Be sure to communicate your plan for things like signage or florals to your wedding coordinator, florist, or trusted family members. This way, they'll be able to set everything up exactly as you pictured it while you are getting ready to be married!

2. Giving Directions
You're going to be super busy on your wedding day but giving people directions to the venue is not something that you should be doing! This is something that you can help your guests with prior to the wedding by listing all of the venue information and directions on your wedding website. Make sure that you have all of the essential information easily accessible to your guests so that they have a breeze making it to the ceremony and reception. Check out our article on wedding website dos and don'ts here: https://planning.adornnashville.com/blog/your-wedding-website.

3. Directing Vendors
Vendors like your caterers, florists, rental agencies, and bakers are going to need some guidance on your wedding day, but that is not something you should be handling. Your wedding coordinator or venue manager should be directing your vendors on where to go once they arrive at the venue. It can also be helpful to give your vendors a set of instructions ahead of the wedding so that they know exactly when and where they are needed.

4. Keeping Everyone on Schedule
Sticking to the timeline is essential to ensure your wedding day goes smoothly, but it is not your job to keep everyone organized. Your wedding coordinator, photographer, and maid of honor will be working together to keep things moving along. You should just try to enjoy each moment and take the whole day in.

5. Making Sure Everyone Has Their Food
You hired caterers to make sure that everyone is fed, so don't sweat it! You shouldn't be pacing around the reception making sure people are receiving their food. You'll be running around socializing during dinner anyways, so you should focus your attention on making sure you get something to eat! After all, you picked out the food and you should get to enjoy it.

6. Making Announcements
Anything from cocktail hour ending to wedding party announcements to the last call can be handled by your emcee or your coordinator! The only time you should be on the microphone is if you want to say a few words, or if you're making a guest appearance on stage for a song!

7. Handling Last Minute Emergencies
Your wedding coordinator, your mom, or your maid of honor can handle anything that pops up on the day of the wedding. If they do an exceptionally good job, you'll never know there was even an emergency! Things like no-shows or late vendors are not your responsibility to deal with.

Leading up to your wedding you'll spend countless hours making sure that everything is set up for success, so when the day comes, enjoy it! Your vendors, coordinator, close family, and maid of honor will ensure that everything goes smoothly. You've already planned the perfect day; you just have to trust your vendors to execute it! The only real things that you're responsible for as the bride are getting married and enjoying the day with your new spouse.