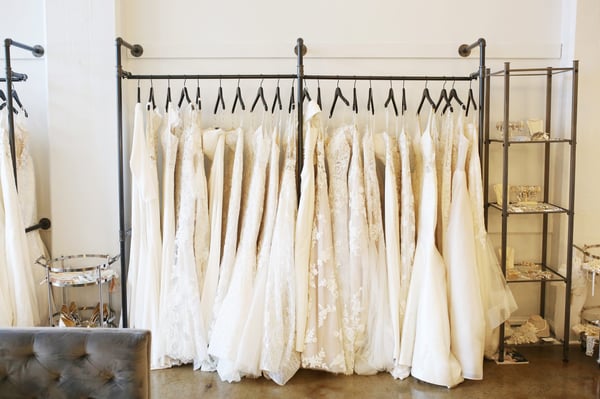 If you're a new bride and have started looking at wedding gowns, you've probably heard the term "trunk show" thrown around quite a bit. Although you may have seen them on TV or heard of them in passing, most brides don't know exactly what they entail! That's why we've outlined everything you need to know about wedding dress trunk shows below:
What is a trunk show?
A trunk show is a limited time event where a designer's extended line of wedding dresses is available in store to browse, try on, and purchase! There is typically a much wider range of options from that specific designer during these events, so it's a great opportunity to snag a dress that isn't usually carried in-store. Sometimes, the wedding dress designer or their representative will even attend the trunk show to answer questions and help style brides! These events are typically utilized as opportunities to unveil new designs to at the boutique to the brides there that day.
Why should you attend a trunk show?
There are a ton of benefits to attending a trunk show! First of all, you'll get to see designs that may not typically be carried at your local boutique. This means that you'll have a huge range of dresses to choose from that you normally wouldn't be able to see in person. It's not guaranteed, but it's also not uncommon for designers to offer discounts if you purchase a dress during the trunk show! There can be decent savings in this so it's definitely worth asking about it.
How do you Find a trunk show to attend?
Most bridal boutiques will promote trunk shows however they typically communicate with their customer base. It's a good idea to keep an eye on your favorite boutique's social media pages (follow us at @adornnashville on Instagram!) as well as their promotional emails and website. If you're at a bridal boutique for an appointment, ask the stylist when their next trunk show will be. You may get lucky with timing and be able to see your favorite designer in person!
What kinds of dresses are at trunk shows?
Typically, the dresses at trunk shows are designs that haven't been released to the public yet. This means that you could be one of the first people to see the designer's latest pieces. Trunk shows typically feature a large range of gowns that the boutique may not typically keep in stock. Designers may also use this time to feature some of the gowns that they still have left over from the previous season at a discount.
Do you have to buy a dress at a trunk show?
In short, no! Attending a designer's trunk show does not mean that you're obligated to buy a gown from that designer, or even at all. You are welcome to try on dresses from the designer's line, or any of the other lines carried in the store. You shouldn't feel pressured to make a purchase from a certain line just because there's a trunk show going on! It's our job to put you in the dress of your dreams, regardless of who the designer is.
How are trunk shows different from sample sales?
During a sample sale, bridal salons sell dresses from their sales floor at a steep discount. These gowns have been tried on by brides and will have normal wear and tear from being worn. Although sales are sometimes offered during trunk shows, it's not typically a sale-focused event. The dresses are all unworn, and the gowns sometimes feature never before seen designs! Unlike a sample sale you'll have the opportunity to order your gown brand new, in your size, and with whatever customizations you'd like.
How should you prepare for a trunk show?
It's best to avoid going into a trunk show blind! Especially if you're unfamiliar with the designer, it's a great idea to browse their gowns and get a feel for what you like and what is in your budget. Going in with an idea of styles and price points will leave you much more equipped to make a decision that day! It's important to go into the trunk show with a decision-making mindset because once those dresses are gone, they are likely not coming back!


If you are head over heels for a specific bridal designer, you should definitely try to attend one of their trunk shows. It's a super unique way to pick out your wedding dress or just learn more about what a specific designer offers, not to mention they're a ton of fun! For more wedding dress shopping resources, visit https://planning.adornnashville.com/blog/tag/wedding-dress-shopping.
You can find more information at our upcoming Designer Spotlight events on our events page. You can also find information on upcoming Trunk Show events on the Designer website.
Check out our events