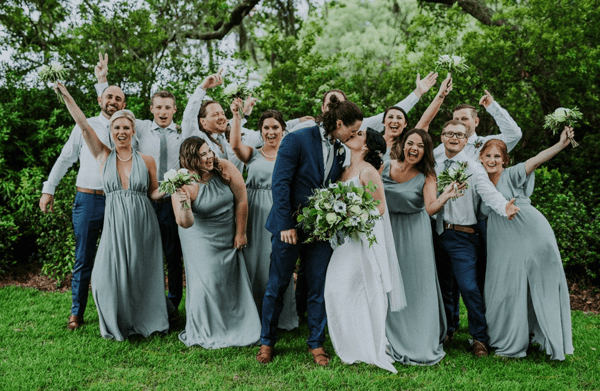 You're engaged! Congratulations on finding your forever love. Right now, you have butterflies in your stomach and your head is full of how you want your special day to be.
However, an average American wedding budget is $33,900 and can scale up to over $100,000 (Source: The Knot- 2019 Real Weddings Study). This might have you thinking that your special day won't be as beautiful as you want it to be without breaking the bank.
But we've got good news! You can still have the wedding of your dreams even if you don't have $30,000 to blow. Here are our top 7 tips for you:
1. Decide on Your Must-Haves and Nice-to-Haves
When you've got a limited budget, your next thought usually is, "We'll have to cut back on everything," but you really don't need to.
First, take some time with your fiancé and decide what's most important to you. Prioritize what you wouldn't mind saying "no" to if the need arises. For example, if you choose the wedding dress of your dreams, you may be able to cut some costs by having a 2-tier cake instead of a 4-tier. Just make sure whatever you value most is among your top must-haves and then trim down what you both decide are the 'nice-to-haves'. This will make it easier to work within your budget.
2. Create an Intimate Guest List
Your wedding day is one of the most important days of your life, filled with moment's you'll remember forever. So, it's quite tempting to invite everyone you know to share in your happy moment.
However, for every person you invite, you're adding extra costs in the areas of food and venue. This won't be easy. But it's important to remember that you're not obligated to invite anyone you don't know so well. Picture who you don't want to be left out from your big day. Anyone who falls in the lines of "She's an old friend and even though I haven't seen her in years . . ." might just have to go.
Extra Tip: Trim your list down by 20% till it fits your budget.
3. Stick with One Venue
Go with ONE location for your wedding ceremony and reception. It will save you from two different [sometimes heavy] venue fees. By consolidating venues, you can reduce your décor and transportation costs too. If you choose a hotel with a ballroom space, this space can quickly transform to a perfect reception area after the ceremony. Or try a classic inn with a garden for your ceremony and use one of its rooms for the reception. Win-win!
4. Get Wedding Help from Friends and Family
Do you have a friend or family member who is good with music, photography, or funny enough to be your MC?
Great! Kindly ask them to help out on your wedding day with their talents. Chances are they'll feel honored to play a crucial role in your wedding. By doing this, you won't only save 'thousands' on hiring the services elsewhere but it can also pass as a great gift from them to you.
5. Design Your Own Invitations
With sites like Canva, you can design cute and classy invitations to print out yourself. You could even skip the printing altogether and send out e-invites instead. Either option is way cheaper than hiring a professional company to get it down for you.
6. Add A Personal Touch with Some Wedding DIY
Looking to make your wedding truly your own and save money while at it? You can do this by playing around with some DIY details to blend into your big day. This can range from your wedding décor to the catering. You can plan a party with friends to paint candle votives for your reception tables. Maybe you have an Aunt who is AMAZING at making gourmet cookies or you can consider hiring a family-owned restaurant.
7. Don't Get Carried Away
It's easy to get carried away with trends around creating the perfect 'Instagram-worthy' wedding.
For example, you don't need to spend loads of money on flowers. You can use artificial flowers or even make a beautiful bouquet from your nice neighbor's rose brush [be sure to ask]. It's likely no one would even notice.
Finally, instead of getting gifts your bridal train may or may not like, a special note to them saying 'Thank You' could go a long way.
Be Yourself and focus on what your wedding day means to you and your fiancé. Keep this in mind and you'll find it easier to remove the details you don't need. Prioritize only the important things so you don't go overboard on your budget.
In the end, you and your fiance will have an amazing wedding that reflects your unique personalities.