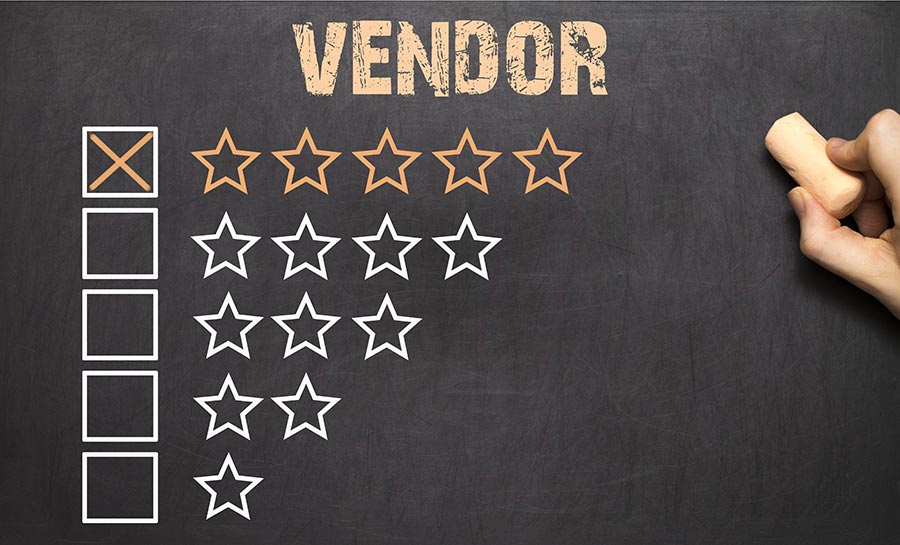 Your wedding vendors are going to be the people who make your wedding happen, so it's important that you choose wisely! Typically, you're also investing quite a bit of money into vendors, so we understand that this is a huge decision for couples. Wondering how you can be sure that a wedding vendor is right for you? Check out our tips on how to choose the right wedding vendor below:
Samples are key
Before you partner with a vendor make sure you understand what you're signing up for! Asking to see examples of their work should give you a good idea of what they'll be able to provide for you. Ask photographers for previous galleries (bonus points if they've shot at your venue before!), ask bands for sample demos, ask florists for pictures from weddings they've done, and ask caterers for a tasting. If a vendor isn't willing to share their portfolio with you, that's a huge red flag!
Read Reviews
This may seem obvious, but we can't emphasize enough how important reviews are for picking your vendors. Hearing from real world brides is going to give you the most accurate understanding of what it's like to work with each vendor. Check out reviews on The Knot, Wedding Wire, Google, Yelp, and your local wedding Facebook pages and forums.
Get Recommendations
If you've had friends or family get married in the same area as you recently, ask for some recommendations! If they had any vendors they loved, those will be the first ones you'll want to look in to. Once you start locking down vendors, you can actually also ask them for recommendations! Photographers in particular have a huge amount of experience with vendors of all types and can typically give great recommendations.
Preferred Lists
Many venues have preferred vendor lists, and these can be a great place to start! Any vendor on the list will have already worked with your venue and will know the lay of the land. These lists are great for choosing bands or DJs. Since they've already worked at your venue before, they'll usually be less prone to having technical difficulties since they'll know how to set up there.
Pricing
It's no secret that wedding costs can add up quickly, so keeping your budget in mind is essential when picking out vendors. Allocate a budget for each vendor you'll need and make sure you stick to it. Ask for quotes and make sure you're only considering vendors whose packages fit within your financial needs. It's not worth blowing a huge portion of your budget on one vendor. If someone is just barely over budget, they may be willing to work with you! Check out our article on negotiating with wedding vendors here.
Ask about availability
You'll want to ask vendors about their availability straight away. Once you've locked down your venue, you'll only be able to consider vendors who are free on your wedding day. Don't end up vetting and falling in love with a vendor who isn't even available for your wedding! This is a super easy way to weed people out right away.
Following these tips will help set you and your fiancé up for success when it comes to picking and working with vendors.