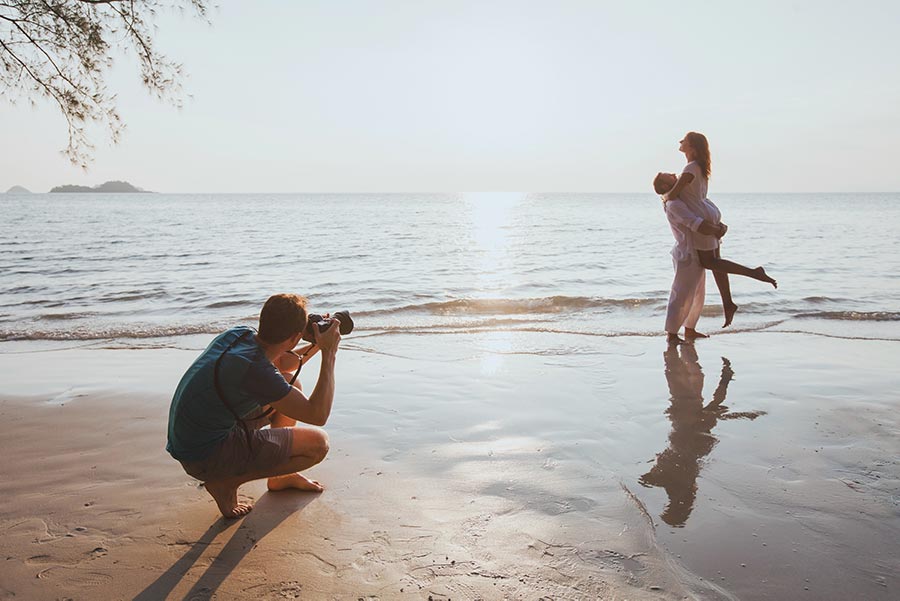 Let's talk engagement photos! We've all seen them on Instagram, but what do they really entail? Keep reading for a total break down on everything you need to know about what goes into an engagement photoshoot with your fiancé.
What
Engagement photos are taken during a photoshoot that happens with your fiancé prior to the wedding. Some people have a photoshoot during and immediately following the proposal, while some people take them closer to the wedding. Generally, they are a gallery of photos of you and your new fiancé being in love and freshly engaged!
Who
In terms of who takes the pictures, ideally your engagement photos are done by your wedding photographer. This allows you to get to know your photographer ahead of the wedding, which will make you much more comfortable with them when the actual wedding day comes. Additionally, this ensures that all of your wedding pictures will be in the same style. While you and your fiancé are obviously the stars of the shoot, some people also like to include others! If you or your spouse has children, it can be nice to include them in a few photos. Some couples may bring their pet(s) along as a fun addition!
Why
There are a variety of reasons why a couple may opt to take engagement photos. These pictures can be used in save the dates, your wedding website, décor, etc. Some people use these photos to announce the engagement. Although typically people will have told their close friends and family right away, many couples utilize engagement photos to inform the rest of their extended friends and family privately or on social media. As we mentioned before, engagement photos also serve as a great way to get to know your photographer ahead of your wedding. This is also a great way to become more comfortable in front of the camera! If you have your engagement photos done by your photographer, the shoot also serves as a test run for the real deal. A test run with your photographer is a great idea because if you end up not liking their work, you can't retake your actual wedding pictures! Finally, the pictures are fun and commemorate a super exciting time in your relationship.
When
Usually you'll book your engagement session soon after booking your photographer. If you're wanting to use your engagement photos for your save the dates, those typically go out 6-8 months prior to your wedding, so you'll need to book your session a few months before your ideal send date. If you aren't using your wedding photographer to take the pictures and don't plan on using the images in your wedding stationary, website, or decor at all, you can book them whenever you want!
Where
Your engagement photo location is totally up to you and your fiancé! Picking somewhere that's special to you as a couple is always a good call and will make the pictures more meaningful. Alternatively, you can choose a scenic location and make a trip out of it! Turning the shoot into a mini adventure is sure to result in a fun memory for the two of you. Plus, you'll get amazing pictures out of the trip! Depending on the distance you want to travel, talk with your photographer about what they're comfortable doing and whether or not they charge a travel fee. When picking your location, consider the vibe you want for your pictures. Do you want to be snuggling up to each other at your favorite coffee shop or do you want the wind blowing in your hair on the side of a mountain? Once you figure out the feel of your pictures, you'll be able to choose a coordinating location!