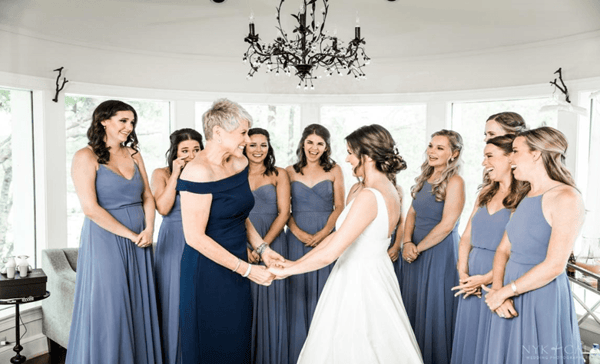 Planning a wedding covers everything from choosing a suitable venue up to keeping everything running smoothly on your big day. You are probably up for being your own wedding planner, even if it means putting your DIY and organization skills to the test. Yet, you also don't want all the potential wedding planning stress that comes with managing all the details, especially the day you say "I do".
Right now, you're probably wondering if hiring a wedding planner is worth it or whether you could just save the money and do it all alone. Here are 5 signs to help you decide if a wedding planner is right for you.
1. You Want a Destination Wedding
If you're planning a destination wedding, identifying the right vendors and planning every detail becomes harder because research and decisions are made remotely. In some cases, you may have to reply on the pictures you see online. Additionally, it's likely that etiquette and pricing structures of your wedding's location are different from where you live.
Hiring a wedding planner can help you deal with these uncertainties. Consider it a more convenient way to guarantee quality control.
2. You and Your Fiancé Work Full-time Jobs
Planning a wedding yourself when you work full-time can be challenging while you are managing all your aspects of your wedding. It may be difficult to dedicate lunchtimes or evenings to focus on wedding planning while juggling work obligations. Moreover, many wedding vendors are busy executing weddings over the weekend, making this time less productive.
If you want to plan your wedding without the assistance of a wedding planner, you may want to consider taking some time off from work to focus on wedding planning or get started early so you don't feel stressed making a short deadline .
3. You find planning more stressful than enjoyable
For some people, wedding planning brings additional stress as opposed to pure joy, that is totally normal! The problem is that when you're are stressed, those closest to you, like your fiancé, mom, or close friends, can feel your stress, which can strain your most important relationships. But when you hire a wedding planner, you simply explain your vision for your big day to the wedding planner and then let them handle the rest!
Bottom line, your mental health is important and a wedding planner will reduce your stress and enable you to focus on what you most enjoy. For example, if you enjoy focusing on your flower arrangement, you could handle this detail and hire a planner for the rest.
4. You Have Difficulty Staying on Budget
Hiring a wedding planner might seem like an extra cost if you've got a strict budget for your wedding. Yet, a wedding planner can save you money as they can negotiate superior rates from vendors based on their experience planning other weddings. You can also benefit from their insider connections to find better vendor options. When talking to potential wedding planners, make sure to highlight your budget and see what ideas they have to bring costs down!
5. The Wedding is Soon And You Don't Have Time
Hiring a wedding planner becomes a 'no-brainer' if your wedding is just a couple of months away and you still have a large number of items that need to get checked off on your to-do list. For example, a wedding planner can streamline the process for you by sending you only to venues she already checked out so you can easily choose your favorite. Your life becomes easier because you only need to stay on-top of decisions with your wedding planner and not with many vendors.
How to Choose the Right Wedding Planner
With this in mind, how can you find the right wedding planner that matches your wedding vision? Here are a few tips to help you find one that's right for you!
Decide on the Services You Need
Before getting a wedding planner, you should first decide which services you want. You can hire a wedding planner to handle all aspects of planning and execution or have them strictly focus on keeping everything on schedule and coordinated on your wedding day. Let the wedding planner know what is most important to you and how you see them being most helpful! Its your day, you get to choose the ideal role they play!
Ask for Recommendations
Ask for recommendations from friends and family. You can also search for more leads by using theKnot.com, WeddingWire.com or on social media by using wedding planner hashtags specific to your area. Did your friend who just got married love her wedding planner? Ask! Nothing beats real life relationships.
Check Past Work
Once you have a list of wedding planners, narrow down the list by asking for references, checking their online portfolios, and reading their reviews. Don't forget to also look at a portfolio of the weddings they planned to make sure their style is in line with yours.
Schedule a Meeting
Most planners offer a free consultation. Take advantage of this to see if they're a good fit for you. While a virtual communication is a great way to start, you can better judge whether a wedding planer is a good fit through an in-person meeting.
Ensure the Personality Fits
You'll be spending a lot of time with your wedding planner over the next couple of months. So, hire someone with whom you'll enjoy working alongside.