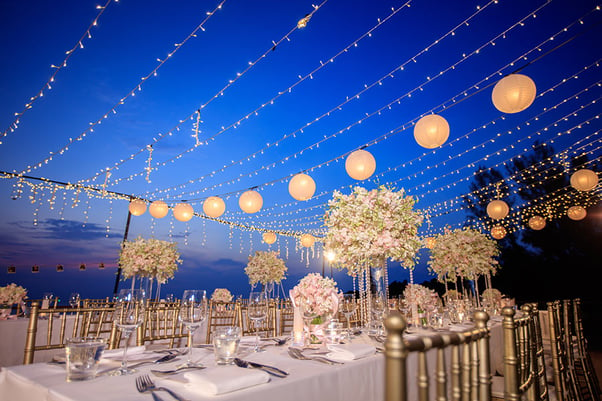 Whether you're a DIY bride or a bride putting personal touches on an all-inclusive venue, you're sure to accumulate quite a bit of wedding décor leading up to your big day. Once your wedding ends you may be wondering…what now? You put a lot of time and money into the décor, you probably won't want to just throw it in the trash. Keeping, donating, gifting, or selling your items are more meaningful and environmentally friendly options! Find out all the different ways to decide what to do with your wedding décor after the big day below:
Keep Some Sentimental Items
Hold on to anything that you'll want to cherish forever and keep it in a safe place.

Your invitation suite, custom signage, and other personal items from the wedding can become sweet keepsakes for you and your spouse to look back on each year. Be sure to store these items in a safe, dry, temperature-controlled space so that they aren't ruined!
Utilize relevant items as home décor! Some wedding décor items are more easily transferrable into your home than others. For example:

Candles can be repurposed around your home.
Twinkle lights/lanterns can be used on your deck or porch.
Mirrors can be hung as a nice way to open up a room.
Floral arrangements can be preserved and displayed as décor anywhere in your house.
Donate Florals and Décor
Looking for a charitable option? Consider donating your florals and décor!
A sweet and charitable route is to donate your flowers to nursing homes, hospitals, and shelters. Companies like Repeat Roses and Petals with a Purpose will come directly to your venue to pick up flowers once the event ends. They take care of the entire donation process from there!
An option for non-floral décor is donating items to Goodwill or Salvation Army. These will be great for other DIY brides to score as they plan their own weddings!
Allowing guests and staff to take home centerpieces after the ceremony is a great way to get as much enjoyment out of them as possible.
Pay it Forward to People You Know
If you're looking for a more personal option, gifting your décor is a great alternative.
If you know another bride getting married soon, you can always offer her your remaining wedding décor. She'll be appreciative of the gesture and hopefully will continue to pay it forward.
Hold onto vases and frames from the wedding to be regifted throughout the year as anniversaries, birthdays, baby showers, and bridal parties pop up.
Sell Items to Recoup Costs
If you put in a lot of work to make, source, or buy your décor you may be hoping to make back some of the money you spent! If so, selling your decorations is a great option.
Utilize Facebook Marketplace, Offer Up, and Craigslist to sell your décor and recoup some of its cost. DIY brides will love to score discounted items and you'll be able to get some of your investment back. It's a win-win!
Talk to your venue coordinator about selling some of your décor. Many venues offer to buy leftover candles, non-personalized decorations, and linens after weddings to be repurposed at other events. You won't have to worry about cleaning up those items after the wedding, and you may be able to have the amount taken off of your remaining bill!
We know that you have put your heart and soul into planning your wedding, and parting with the décor can be emotional! However you choose to repurpose your décor is up to you, but we know it can be a daunting task, so we hope that this list will be of some help.