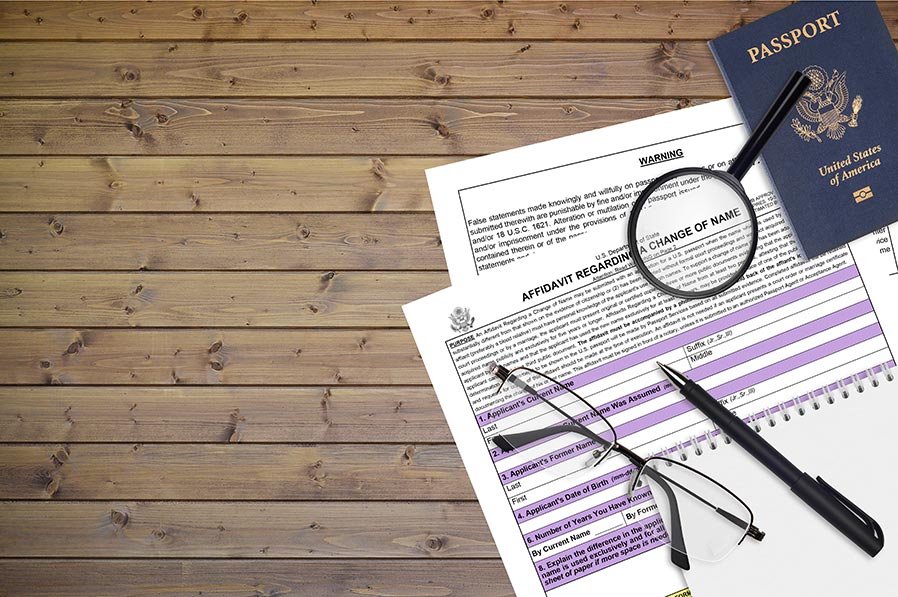 Congratulations on your wedding! Once you have your marriage certificate, you'll be ready to make your new name official. We know that the process can be overwhelming, so we're here to help! We've outlined all of the official documents and miscellaneous places where you'll need to change your name. We even outline your options for getting it all done. Check out our Ultimate Name Change Guide below to get started:
Official Documents
You'll want to start off by changing your name on official documents. Neglecting to do so quickly could have an impact on your ability to vote, travel, or handle some financial matters. Here are some documents you'll want to prioritize changing your name on first.
Social Security Card
You must fill out a social security card application and mail it in or bring it into your local social security office. The application can be found at https://faq.ssa.gov/. Having this changed is free!
Driver's License
You'll need to head into the DMV to get your new driver's license. The required documents vary from state to state, so visit your local DMV website and check on what to bring before you head in.
Voter Registration
Once you've changed your name with the DMV, you should be able update your name on your voter registration online.
Passport
You can change the name on your passport with a mail-in form available at https://travel.state.gov/. Don't forget to change your name with TSA Pre-Check if you have it!
Bank Account
The quickest way to get this done is to head into your local branch with your new license and marriage certificate. Double check with your bank to make sure you'll be receiving updated checks and cards as well.
Employer
Let your HR department know that you've had a name change. They'll need to update their records and forms like your W2. You may also need to separately contact IT about getting your email changed.
Insurance
Many insurance companies allow you to change your name by logging into your account online. Otherwise, give the customer service department a call and they should be able to help you with the change!
Mortgage/Lease
If you're renting, contact your leasing office about your name change so that they can update your lease. For brides with mortgages, you'll want to call your lender and talk through name change requirements.

Other Places to Change Your Name
After you take care of changing your name on official documents, here are some additional places you may want to change your name on social media accounts, loyalty member programs, alumni associations, airline accounts, voicemail, email signature, etc.
Social Media
You can take care of this on your own whenever you have time! Just head to the settings section of your social media site to edit your username.
Loyalty Member Programs
This can easily by edited by logging into your account on the company site and visiting settings page.
Alumni Associations
If your alumni association has a login, you can usually change it in the settings tab on their site. If not, shoot them an email so that they can manually update their records.
Airline Accounts
Change your name in the settings of your airline account. Be sure to do this after you have your new license so that the name on your ID matches your ticket.
Magazine/Box Subscriptions
You can edit your name for subscription boxes and magazines by updating your user preferences.
Voicemail
This can be edited on your own right from your phone!
Email Signature
Edit your email signature in the message settings on your email platform.
Name Plate
If you have a name plate at your office, you can usually contact your HR or IT department to have it changed.
How to Change Your Name
That can feel like a lot that you have to change, but don't be overwhelmed! Consider these options to change your name:
Do It Yourself
Although this is the most time-consuming option, it is free! Carve out an afternoon and knock it out in one day. This will give you the most control over the process and allow you to handle any issues that may arise right away. If you're in-between doing it yourself and utilizing an all-inclusive service, some companies offer kits that help simplify the process of doing it yourself via checklists and pre-downloaded forms.
Utilize an All-Inclusive Service
There are numerous services that will take care of all the major name change documents for you. Each service allows you to pick from packages that offer differing levels of conveniences and inclusions. These services will typically auto-complete name change applications for social security cards, passports, drivers' licenses, vehicle registrations, credit cards, and more. Some services will even mail the applications in for you! Check out hitchswitch.com, newlynamed.com, and missnowmrs.com to view some all-inclusive service options.
Our advice is to get the important documents updated ASAP. After that, you'll be reminded of small places you need to change your name as you encounter junk mail, emails, and phone calls utilizing your maiden name. Congratulations on your new marriage and name!