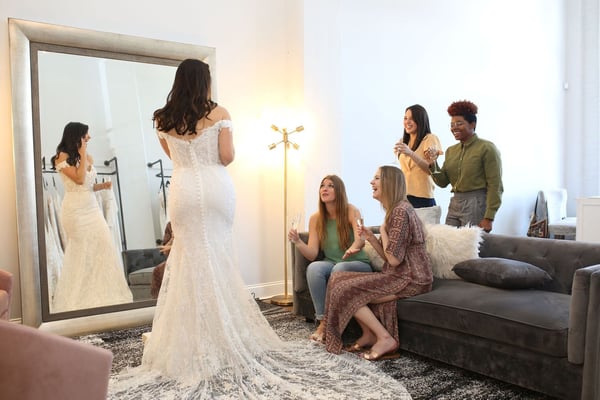 While wedding dress shopping is exciting and fun, it can also be stressful if you're not prepared. Our goal at Adorn Nashville is to help you have an elevated and unforgettable experience. Whether you're thinking about a dramatic Rivini gown, an opulent Badgley Mischka creation, or a couture-inspired Enzoani wedding dress – we're here to help you find that dress that uniquely celebrates you.
In this blog, we'll spill some planning tips for wedding dress shopping at Adorn Nashville Bridal Shop so you can feel confident and in control. Let's get started!
1. Schedule a free consultation with our stylists.
During your consultation, you can tell us about yourself, your dreams, and your aspirations. Your stylist will learn about your vision and any specific styles you might have in mind. This way, before the appointment, your stylists can have your personal preferences and goals in mind. Adorn Nashville takes pride in taking time to get to know every bride so that we're able to handpick from our diverse collection.
2. Do a little research.
Don't worry – there won't be quiz on dress terminology! It's a great idea to browse Pinterest for looks you love and do a little research on the types of dresses you're interested in, and maybe even take some screenshots of dresses that caught your eye.
Don't know what tulle is? Wondering what the differences are between fit and flare and mermaid? Check out the Styles of Wedding Dresses section on our website or do a little Googling so you can feel a bit more familiar with the world of wedding dresses.
3. Keep your shopping team small.
While you may have seen on a certain TV show that brides bring a full entourage, we don't recommend it. It's ideal to keep your shopping team to a few key players – those who you couldn't make your big decision without.
4. Eat a small meal beforehand.
Don't come into the shop famished. You want to have the energy to handle all the excitement. Your dress shopping appointment should last one hour to an hour and a half. If you don't have an appetite before your appointment, be sure to have plans to eat right after.
5. Chill between appointments.
Want to schedule multiple bridal appointments in one day? Although it is tempting, don't try to go to every single store in town. Overbooking yourself will only lead to confusion ("wait, which dress did I love?!") and exhaustion.
Do your research and pare down your list to a few select stores. Leave space in your schedule for travel between appointments, pit stops along the way, and, of course, time to celebrate the process!
6. Don't Forget Snacks
Let's face it, we all get hangry sometimes. And trying on wedding dresses, even for a short time, is a workout! Nothing will derail your appointment quite like the blend of emotions hanger can bring. Make sure to keep plenty of snacks on hand not only for you but also for your group—they will need to eat too! Remember to eat in between your appointments! Whether you go out to brunch with your posse or grab something quick on the way over, shopping when you feel focused and ready will yield the greatest results.
7. Have a budget in mind.
Come prepared with a budget for your bridal gown. This gives your stylist some direction for a successful experience.
"What's your budget?" will be one of the first questions we'll ask, so know how much you wish to spend. This will also help to avoid trying on a dress that is out of your price range, only to fall love with it.
8. Come ready to commit.
While bridal gown shopping is extremely fun, you should be in the buying mindset. In other words, you have a goal to buy a wedding dress – not just to try on stuff. The more Nashville bridal shops you visit and the more gowns you try on, the harder your decision will be.
If a dress is "The One," go for it. And you'll know when it's the perfect dress – just like you knew your soon-to-be husband is "The One!"
Our amazing team at Adorn Nashville is here help to help you have a fun and easy dress buying experience. Say yes to your dream designer wedding dress, and confidently be the center of attention on your big day!