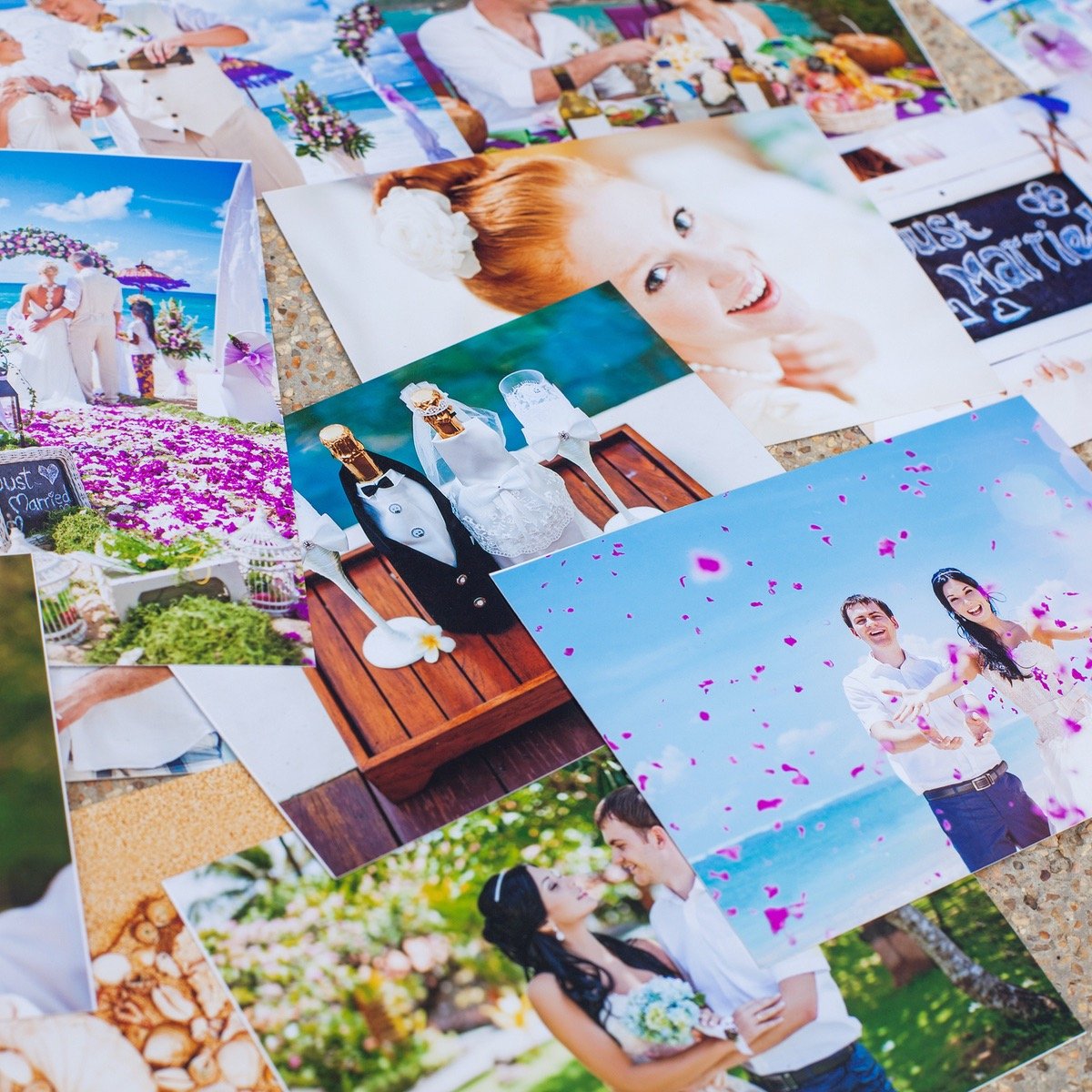 There's no doubt that you'll want to hold on to all of your wedding day memories, and a scrapbook is a great way to do that! More formal wedding albums are amazing for capturing images of you, your fiancé, and your family, but scrapbooks are a great way to look back at the smaller and more personal memories from the day. Wondering how to get the best content for your wedding day scrapbook? We've highlighted some of our favorite wedding scrapbooking tips and tricks below:
Save everything!
Hold on to absolutely everything and anything that could potentially go in the scrapbook. Put aside samples of all of your wedding stationary to add to the book. This will allow you to incorporate things like the invitations, name cards, programs, readings, etc. into your scrapbook. Anything else involved in the wedding planning/wedding day should be saved as well! Things like plane tickets, decorative ribbons, and small mementos that you pick up on the way should definitely be included.
Disposable cameras
Setting out disposable cameras for anyone to use at your wedding is sure to leave you with some awesome photos at the end of the night! Label them clearly so that guests know they're welcome to use the cameras throughout the night. Just be sure someone collects the cameras at the end of the wedding so that you can get them developed and added to your scrapbook!
Alternative guest book
Instead of the traditional guest book, you can ask guests to write their well-wishes on smaller pieces of paper. This was you can incorporate them throughout the scrapbook! You can even position the notes next to pictures of the guests who wrote them for a more personal touch.
Set up picture-worthy spots
Make it irresistible to snap a pic at your wedding! Set up a designated spot with florals or a sign where guests will be drawn to take photos. You can even include a small sign that says "snap a pic here!" so that guests are even further encouraged to utilize the space. This will drum up some content from other people that you can later add to your scrapbook.
Save your flowers
Put aside a few of the flowers from your bouquet to press after the wedding. If you're having your bouquet preserved, pull a few from your bridesmaids' bouquets or the centerpieces. You'll be able to include dried/pressed flowers as embellishments throughout your scrapbook!
Use other people's photos
Ask people to send you pictures they snapped from the wedding day and look through your wedding hashtag to see what people have posted. You can pull from other people's images to get the guest's perspective on the day! Be sure to act quickly after the wedding, if people posted on social media like Snapchat, the pictures will disappear after 24 hours! Ask them to save the photos for you before they are gone.
Designate a friend
Ask a sibling or a bridesmaid to make sure they snap some candid dance floor shots throughout the night. Although your photographer will obviously take the majority of your pictures, this will ensure that you have some fun and more relaxed options to include in your collection. This is also sure to capture some hilarious moments!
Photobooth!
Nothing drums up scrapbook content quite like a photobooth. Setting up a photobooth with props for your guests ensures that you'll have tons of hilarious and sweet pictures from the day. If you go this route, make sure you and your new spouse get a picture or two in the photobooth before the end of the night!
Communicate with your photographer
Provide your photographer with a list of every photo you want to capture throughout the day. They'll always get the classic ones, but if you want anything special (Bride + Grandma, Bride + College Roommates, etc.) ask for it! This will ensure that no one forgets about any key pictures in the chaos of the wedding day. At the end, you'll have your pick of professional photos to include in the scrapbook.

If you're saying a few words during the reception, be sure to give your mom a special shout out. She probably spent a ton of time helping you plan the wedding, so a public thank you at the event she helped so much with will mean the world to her. If your new mother-in-law was a huge help, be sure to give her thanks as well!