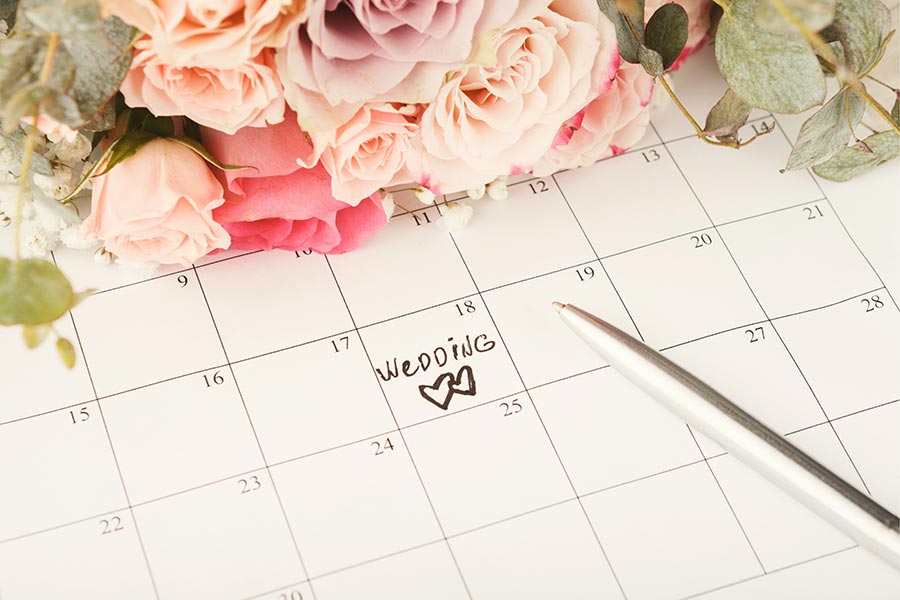 As we're sure you know, there are a ton of moving parts involved in wedding planning. Some brides love the challenge, and others prefer to lean on experts for support! If you aren't sure what a wedding coordinator does or if you should hire one, we've got your back.
Wedding coordinators handle a lot in the months leading up to the wedding, as well as the day-of! Whether you're looking to utilize someone's industry knowledge, or you just don't want the headache, a wedding coordinator can definitely take a good amount of the wedding planning stress off of your plate! Check out our list of a standard wedding coordinators' main responsibilities below:
Creating a Wedding Timeline
Your wedding coordinator will be responsible for outlining your day down to the minute! From the moment you begin getting ready to your grand exit, they'll schedule everything from start to finish. This goes beyond the standard ceremony and reception times. They'll plan the smaller things like the cake cutting or when to start handing out sparklers for the grand exit. This is essential for keeping the day on track – especially when it comes to vendors!
Coordinating with Vendors
Leading up to your wedding, your vendors will have a ton of logistical questions. Your coordinator will provide them with a timeline, final guest count, and any information they'll need for setting up at the venue. They'll also provide your photographer with a shot list for the wedding to ensure that you get every photo you want! You'll be able to focus on things like finalizing the menu or the no-play list, while your coordinator handles the nitty gritty details.
Handling Stationary
Coordinators are typically also in charge of securing the wedding day stationary. This includes programs, menu cards, place cards, signage, and any other miscellaneous paper goods you have prepared for the day. They'll bring all of the appropriate stationary to the venue and ensure that it's set up properly.
Managing RSVPs
As you get closer to your deadline, RSVPs will start pouring into your mailbox! Your coordinator will help manage your guest list, meal preferences, seating charts, and more. Leave the counting, recounting, organizing, and rearranging to them! They'll also communicate the final numbers and meal choices to your venue and caterer.
Distributing Tips
When your wedding day is coming to a close, the last thing you'll want to worry about is organizing and distributing tips to all of your vendors. We suggest prepackaging your tips in labeled envelopes ahead of the wedding day and having your coordinator make sure they get to each of your vendors. Wondering how much to tip vendors? Check out our article on How Much to Tip Wedding Vendors here.
Enforcing the Schedule
Once your schedule starts slipping on your wedding day, it's easy to fall behind quickly! Staying on schedule is essential – your vendors and venue are only booked for a set number of hours, plus you need to get your main pictures done before the sun sets. Your coordinator will keep the festivities moving along to ensure that everything stays on schedule. They'll also work to shift the timeline on the fly if you start to fall behind.
Supervising Set Up
Before you arrive at your venue there is a lot to be done! Your florals, rentals, tables, chairs, food, bar, AV equipment, and more will all need to be set up and ready to go before the reception. Your coordinator will work with all of the vendors to ensure that everything is ready to go in a timely manner so that when you arrive everything is set up exactly as you imagined it.
Solving Problems
Although we all hope that our wedding day will go off without a hitch, that's rarely the case when it comes to event planning! Hiccups like non-RSVPed guests showing up, AV equipment glitches, and late vendors are not things that you should be handling on your wedding day! Your wedding coordinator will put out any fires that happen to arise on your big day so that you never even know there was an issue.
All in all, wedding coordinators solve problems, take things off of your plate, and ensure that your wedding day goes smoothly. Whether or not you love the planning process, a wedding coordinator can be an amazing resource to have on hand.