When should i GO WEDDING DRESS SHOPPING?
WHEN SHOULD I GO WEDDING DRESS SHOPPING
When should you start wedding dress shopping? If you're ready to start trying on wedding dresses, don't wait to kick it into high gear!

Most brides are aware that wedding dresses must be purchased far in advance. By timing your purchase right, you can avoid rush fees and dress regret.

Check out our advice about when to start wedding dress shopping so you can plan enough time for shopping, production and alterations.
Typically, we suggest making your bridal dress appointments 9-12 months prior to your wedding date. This date is suggested with the goal of picking out and ordering a dress 8-9 months before the wedding. This gives you plenty of time to shop around and find the dress of your dreams. It also ensures that you avoid rush fees and give designers the lead time necessary to create your gown from scratch. Don't forget that each gown is made to order, so longer wait times are inevitable. Finally, this timeline allows for alterations after the dress has come in. Even though the dress will be made specifically for you, there will most likely be slight alterations done to make it fit like a dream, and that's something brides must plan for.
Although it may be tempting during longer engagements, we suggest avoiding dress shopping before 12 months out. Starting your wedding dress hunt too early can result in dress regret later on. Brides who start before the 12-month mark often find themselves comparing their dress to newer designs as more recent collections are rolled out. Additionally, the farther out your wedding is, the less you know! Ensuring that you have the wedding theme and location established before you pick a dress can help make sure that it is appropriate for the occasion.
At the same time, if you wait until your wedding is less than 8 months out to start looking, you are risking having to pay rush fees to ensure that your dress arrives in time to be altered. Not all brides find their gown right away, so leaving time to shop around is essential. Your first wedding dress fitting will be about 2 months out from your wedding, with the second fitting following a month later. Your final fitting will be in the 2-3 weeks prior to your wedding day. When choosing a bridal appointment date, it's safe to assume that most dresses will take at least 5-6 months to come in. If you don't start shopping until 8 months out, you're leaving yourself a dangerously short window to pick out, order, and alter a gown.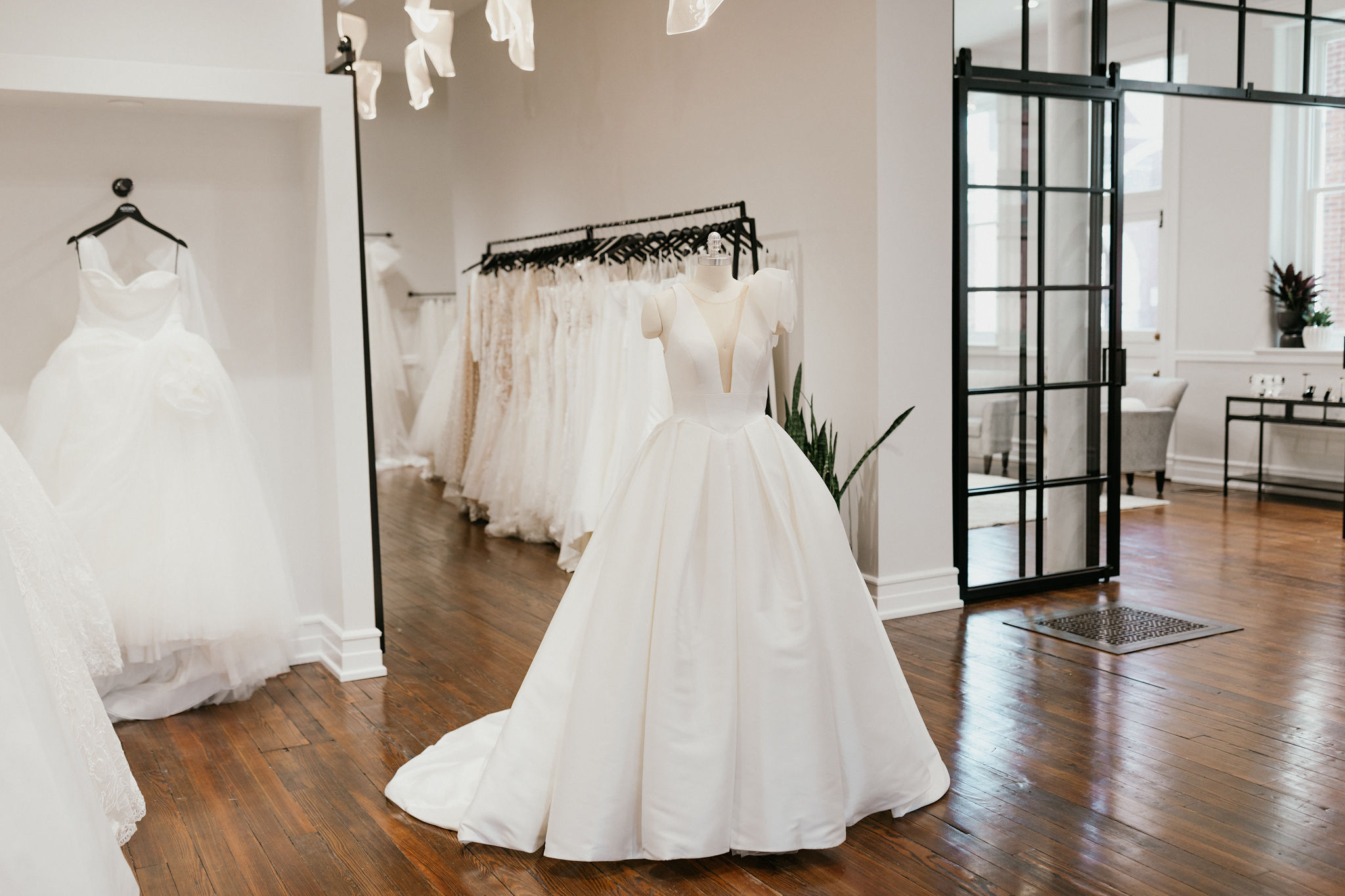 Although this is the standard suggestion, there are a few exceptions! If you're planning on several intricate customizations, you'll want to allow for a longer timeline. Additionally, if you're planning on getting bridal portraits prior to the wedding day, you'll have to have your dress ordered and fitted before your pictures. We still suggest following the 9-12 month timeline here, just make sure you're going off of the date of your bridal portraits rather than your wedding. If your wedding is taking place overseas and you plan on shipping your dress, make sure you allow extra time for that as well! Basically, if you're planning on anything that could extend or delay the typical timeline, air on the side of caution and give yourself extra time.
Ready to make your appointment?
DON'T MAKE A WEDDING PLANNING MISTAKE!
Get your free copy of our Wedding Fashion Timeline.